Concert Review: Anthrax, Testament, Death Angel
Death Angel is one of the oft-overlooked also-rans of the thrash movement of the early to mid 1980's. Their name is spoken mostly in the dusty corners of memory, their legacy not as pronounced as so many of their musical kin. To mistake that somewhat faded glory for a lack of talent or acumen, and place Death Angel on the discard pile is a fool's errand. Death Angel remains a vital and virulent band in this new millennium, and their performance as the first band on the stage was evidence enough that they remain hungry and capable. One can only wonder if the play order for the evening might not have been different if not for Death Angel's decade long absence.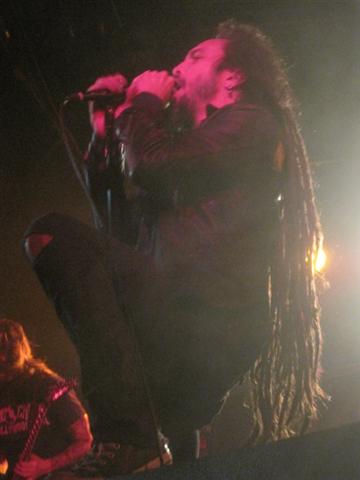 The crowd was already mostly full even at the show's early hour, and those fans made one thing clear from the gun; they were in attendance to celebrate thrash in all its forms, regardless of legacy or sales. They cheered for Death Angel with equal fervor to any of the bands that came after, drinking in the sonic wave as a man consumes water at a desert oasis.
Death Angel's set was short, but came out firing with "I Chose the Sky" and "Evil Priest," two songs that represent both the new and old of the band's catalog. Through all the years and permutations, what's clear is that Death Angel hasn't even seen a need to adapt to changing times; their adherence to the tenets of old thrash gives them a genuine, authentic sound which many bands today would kill to know the secret of. As they ripped through a classic "Seemingly Endless Time," the cornerstones of heavy metal can be extracted from the gritty, crunchy sound. Death Angel's set was workmanlike but evocative, serving as a reminder that 2010's "Relentless Retribution" was not the band's swan song.
A couple decades from now, when my nephew or other assorted next of kin marvel at me and say "Wow, you saw Testament?! What was Chuck Billy like?" Before I even to describe Billy's vocal talent or singing style, the words that will clumsily blurt out of my mouth will be "air guitar." Truly, that is part and parcel with Billy's legacy, as he's been playing along with his bandmates in four different decades. To accommodate his dalliances, the man now comes equipped with an LED mic stand, capable of beaming light onto Testament's disciples.
Those things aside, I don't know that I can come up with many musicians who take more joy in the performance of their music than Testament. After more than twenty five years of headbanging, riffing and occasional tumultuous lineup changes, Testament still delivers a set that is both powerful and enjoyable. The professionalism of Testament cannot be overstated, as no piece in the set is given more or less attention than any others, even given the countless times that "More Than Meets the Eye" has probably been played.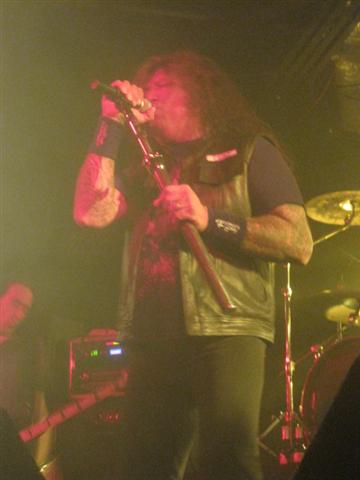 To that end, if Testament is laudably professional, they are also predictable. With some minor variables, a fan always knows that he or she (and yes, there are "she" Testament fans, I'm sure,) will hear "Into the Pit," "Over the Wall" and "The New Order." Yet, that predilection for playing the same handful cuts seems to be giving the fans exactly what they want. It is comforting in its own way, like a visit from an old friend who tells the same favorite stories over and over.
For all that though, the star of Testament's evening was "Henchmen Ride" which former-every-band-ever-including-Testament guest drummer Gene Hoglan truly took under wing and made his own. The piece was tightly percussive and played with the expected that Testament brings to the table.
Finally, we were treated to Anthrax. Their emergence had the feeling of the full course being brought to the dinner table. Yes, the fans were thrilled to have celebrated metal's greatness with heavyweights like Death Angel and Testament, but Anthrax was what the paying customers had come to see, so to speak. Fresh off their historic Big 4 show with Metallica, Megadeth and Slayer, Anthrax took the stage armed with material both familiar and new, as they promoted their newest effort "Worship Music."
The recent resurgence in heavy metal, coupled with the cyclical return of thrash to the fore has perhaps benefited Anthrax more than any other single band. The first time I saw Anthrax was nearly ten years ago, and I stood among a dedicated, medium sized crowd of mostly medium age. Now, the quintet was playing to a packed house of over fifteen hundred, with many fresh faces mixed into what used to be a metaphorically members-only event.
The new album made up the lion's share of the set's open, as Scott Ian, Joey Belladonna and company stampeded out of the gate with "Earth on Hell" and "Fight 'Em Til You Can't." Still, Anthrax refused to let "Worship Music" dominate the night, immediate following those two cuts with a heavy, typically fast-and-loose "Caught in a Mosh."
Before fans could blink, they were caught in a temporal whirlwind, latched onto the present with "I'm Alive" but whipped back to the heady days of denim vests and band patches with "Antisocial." This kind of timeline yo-yoing characterized the band's entire ninety minutes on stage, deftly combining what was with what is and producing an alloy of what shall ever be.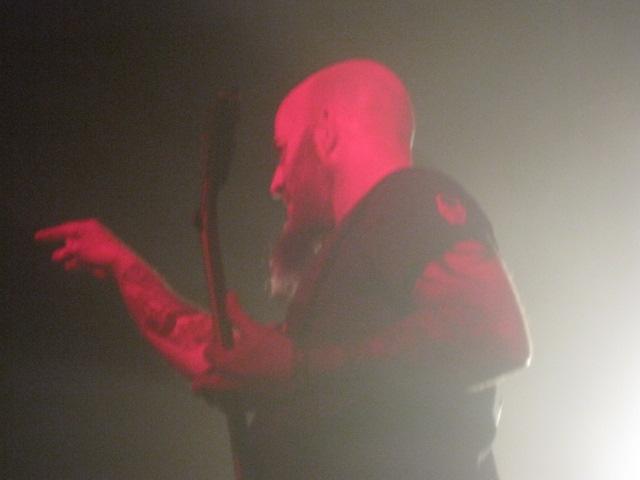 For those who believe that the pinnacle of Anthrax's career was the days with John Bush at the helm, you will be disappointed by Anthrax in this current incarnation. While Bush was with the band, the entire catalog was open for live performance, no matter the era. Since Anthrax reunited with Joey Belladonna, the reverse is not true. It's as though "Sound of White Noise" and "We've Come For You All" plus their accompanying pieces never happened, a pale dream of a lost time.
That's not to say that Anthrax is short on material that people want to hear, however. Their customary, double-timed cover of "Got the Time" was accounted for, complete with Scott Ian's signature circular rampaging around the stage. "Indians," a perennial crowd favorite, was played with power and authority, and for just a fleeting moment, fist-bang mania was back in full swing.
The encore consisted of both surprises and standbys. "Madhouse" was played with guest drummer Jason Bittner (Shadows Fall) taking over the kit from Charlie Benante, and then Anthrax performed a brief but impressive cover of Sepultura's "Refuse/Resist." Finally, the crowd was allowed to go home with the closing strains of "I Am The Law," and the night's chaos was over.
Shows like this are both a constant reminder of what thrash used to be and what it appears to be becoming again. It is said in mass media and fashion that "what's old is new again," alluding to the cyclical nature of the tastes of the greater populace. As thrash seems to be coming back around into the collective musical conscious, Anthrax, Testament and Death Angel seems ready to reclaim their positions on top.