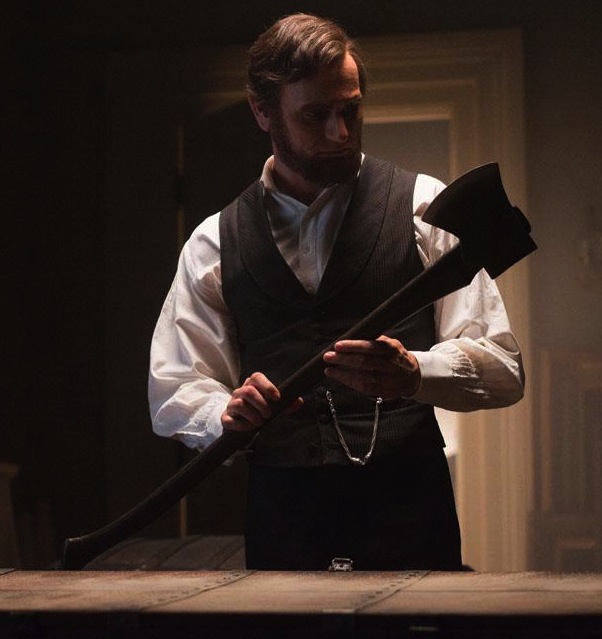 9 Vampire Hunters Not Named "Abraham"
Opening this weekend is the bizarrely titled but conceptually interesting "Abraham Lincoln: Vampire Hunter". His notoriety instantaneously makes the 16th President of the United States the most famous vampire slayer amongst his peers. Though it remains to be seen whether or not the film itself can live up to some of the other impressive slayers, killers and purifiers in the realm of cinema vampire lore. So in case Mr. Lincoln doesn't satisfy your bloodlust, here are 9 Essential Vampire Hunter Films.
---
9. Buffy the Vampire Slayer
Vampiric Antagonist: Buffy Summers
The Stakes: More popular from her television exploits, Buffy first made waves as a quirky black comedy. Buffy has been preordained The Slayer, the woman chosen to defend the world from Vampires. Using her cheerleading athleticism and teenage quips she takes down various vamps including Pee Wee Herman himself as seen above.
---
8. John Carpenter's Vampires
Vampiric Antagonist: Jack Crow
The Stakes: Vampire hunter Jack Crow, played by James Woods, is put in charge of a special mission from the Vatican to take out a group of vampires. These vampires are on a mission to retrieve a crucifix in order to end mankind, so no pressure or anything Jack.
---
7. Bram Stoker's Dracula (1992)
Vampiric Antagonist: Abraham Van Helsing
The Stakes: The classic tale has been made countless times over. Using the most well known version featuring Anthony Hopkins as Van Helsing, we are shown a seriously flawed and unreliable character that isn't quite the perfectly noble hero he's made out to be. It's not a phenomenal film, but this take on the first vampire hunter is quite compelling.
---
6. Fright Night (2011)
Vampiric Antagonist: Charlie Brewster & Peter Vincent
The Stakes: A remarkably refreshing remake from the 80's classic adds some S.W.A.T. level artillery to the duo of Brewster & Vincent. Brewster in particular is incredibly innovative and quick thinking in his vampire slaying methods. The evolution of the duos characters also adds a stirring dimension to how they come to their final fight with vampire Jerry.
---
5. The Monster Squad
Vampiric Antagonist: The Titular Squad & Frankenstein's Monster
The Stakes: Using legendary monsters from the Universal catalogue, Dracula plans to rule the world. The Monster Squad kids team up with Frankenstein's monster to take down the iconic vampire through various means including garlic on pizza and church gates. Also, wolfman still has nards.
---
4. Stake Land
Vampiric Antagonist: Mister & Martin
The Stakes: An apocalyptic wasteland filled with vampires and fundamentalist freaks keep Mister and Martin always on their game. The surrogate father Mister being the teacher to Martin's student. And boy does Mister have a lot to teach. An expert in blades, bullets, bows and hand to hand, Mister is an ideal tutor when majoring in vampire murder liberal arts.
---
3. The Lost Boys
Vampiric Antagonist: The Emerson & Frog Brothers
The Stakes: Santa Carla is teeming with vampires, you just have to dive under a bridge to find them. But once you do it's important to have the 2 Corey's and Jason Patric available for a "Home Alone" house defense system. Personal favorite goes to bathtub of holy water.
---
2. Blade II
Vampiric Antagonist: Blade & The Bloodpack
The Stakes: A new, more powerful breed of vampire has evolved and needs the Daywalker's full attention. Teaming up with an elite team of vampire assassin's Blade needs to befriend his sworn foe to stop a greater threat.
---
1. From Dusk Till Dawn
Vampiric Antagonist: The Gecko Brothers, Fuller Family, Sex Machine & Frost
The Stakes: Vampire. Strip Club. I don't need to go on but this cult classic written by Quentin Tarantino and directed by Robert Rodriguez is an absolute blast. George Clooney is a restrained maniac, Harvey Keitel a gun toting preacher and Juliette Lewis the lolita learning how to slay. Top it off with Tom Savini and Fred Williamson and this is "The Avengers" of vampire killers.