Shelf Space: "Curse of Chucky" Blu-ray Review
Director: Don Mancini
Writers: Don Mancini
Starring: Fiona Dourif, Danielle Bisutti, Brennan Elliott, Maitland McConnell, Chantal Quesnelle
Company: Universal
"He's Back!". "Curse of Chucky," the 6th installment of the Child's Play saga reunites us with our favorite plastic psychopath. The wedding/honeymoon/baby shower is over for Chucky and he seems a little stressed out. This time he's seeking revenge against the people he feels are responsible for trapping him inside of his cheerful little Good Guy Doll body. The story centers around the wheelchair-bound Nica (Fiona Dourif, daughter of Brad) and her sister Barb (Bisutti, Insidious 2) who are fighting over what to do with the old, secluded family home after the death of their mother…which mysteriously coincided with the delivery of a Good Guy Doll. Barb brings along her husband (Elliott), nanny (McConnell), their young daughter, and a priest to round it out. When strange things start to happen and blood is splattered, Nica becomes suspicious of the doll and learns that her connection to him reaches beyond the walls of the house and into her past.
Don Mancini, writer of every Child's Play/Chucky installment, and director of "Seed of Chucky" takes on both roles for this film. After taking Chucky in an admittedly comedic direction for Bride and Seed, he felt it was time to make the doll scary again. Mancini originally wanted to do a straight up remake of "Child's Play" but the situation was a tangled legal mess so he came up with this story as a way to explore the origin of Charles Lee Ray/Chucky in a way that, for the most part, would leave out the fourth and fifth films. "Curse of Chucky" definitely succeeds as a horror film and despite that whole thing about the killer being a talking doll, leaves the horror-comedy behind.
"Curse Of Chucky" is brought to you by Universal Studios Home Entertainment
VIDEO: 5/5
Beautiful. The CG work is incredibly well-done, Chucky's "skin" looks as smooth and shiny as it would in person, and the blood is RED. This 1080p/AVC-encoded transfer is flawless. There's amazing detail (even in the darkest scenes), no noise whatsoever, and the colors are rich and vibrant. Close-ups of Chucky are unbelievably detailed with his hair, skin, and stitches coming through bright and clear. There's not one problem to be found with this format.
AUDIO: 5/5
A DTS-HD Master 5.1 mix is tough to find flaws in, especially when used for a film's initial release. All levels work in a way that builds suspense without causing audience members to strain to hear any of the auditory subtleties to be found throughout. When the tension building finally reaches the point of pay-off, it's done in a way that's still loud enough to make you jump but doesn't force you to fumble for your remote before the neighbors downstairs get pissed. Which is great not only for the sake of dialogue and general sound effects, but with a score composed by none other than Joseph LoDuca, whose resume begins with the horror fan favorite, "Evil Dead" you've gotta jam this one out of respect.
SUPPLEMENTS: 4/5
Universal knows what's up when it comes to home entertainment and they certainly don't skimp when it comes to genre films either. For the premiere release of "Curse of Chucky" they've jammed in just about all they could--except maybe a limited edition Charles Lee Ray wig -- what? I thought it made him look cool.
Playing With Dolls: The Making of Curse of Chucky
Quick snippets of interviews with the actors and crew who worked on this movie give us not so much a look at how the film was actually made so much as it describes the general feeling of everyone on set. Actors share their best/worst moments during filming and talk about how excited they were to be part of the project. Take it or leave it.
Living Doll: Bringing Chucky To Life
The 4/5 I'm giving is based on this featurette entirely. The viewer gets an intimate look at what went into making Chucky come to life from the color of his overalls to the little person who stood in as his double for certain shots. The practical effects explained here are the heart of movie magic and it's crazy to see how it all comes together in the end.
Voodoo Doll: The Chucky Legacy
This could have been edited together with the "Playing with Dolls" segment and probably would brought each of them over the edge of interesting and seated them comfortable at the entertaining end of the spectrum. More actors and crew discussing the legend of Chucky and his place in pop culture.
Feature Commentary with Director Don Mancini, Puppeteer Tony Gardner, and Star Fiona Dourif
This is a pretty mellow bunch, with Mancini taking the lead on this commentary. Hear them all gush over what a great guy Brad Dourif is and what a pain in the ass it was for everyone to have to work together to bring a doll to life.
see also: storyboard comparisons, gag reel, deleted scenes
Should I buy it?
"Curse Of Chucky" had everything I was starting to miss about the franchise. He was scary, as far from corny as a maniacal doll can be, and the other characters were pretty well-developed. If you're a fan of the other movies and you want to complete the collection, go for it. I can't commit 100% to a copy of this for myself but I would definitely go out and rent the blu-ray so I could at least check out the extra features and take in the high quality of this blu-ray.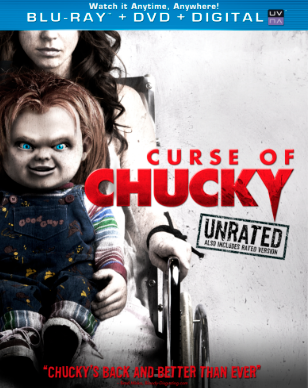 BUY IT HERE
*Article by Sara Hanlon*