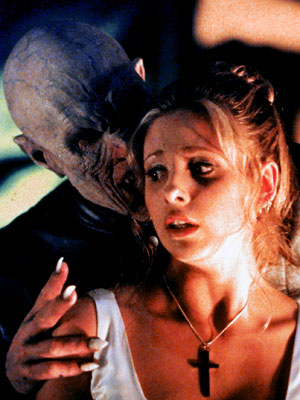 Gellar May Return As Buffy
Not a day has gone by where I haven't wrestled with the question of who was the better Buffy. While Kristy Swanson played the lead in the original "Buffy The Vampire Slayer" movie, I have always had a soft spot in my heart for Sarah Michelle Gellar. And just to make this clear I have never been a fan of either the TV show or the Movie but I will always stop clicking through the channel when either are on. What can I say, I'm not a Buffy fan but I am a giant fan of hot women. While it may not be fare to compare apples to oranges the debate has always been there.
Now we all may have a chance to compare apples to apples, or asses to asses as I like to say. Sarah Michelle Gellar is currently in talks to bring her little Buffy to the big screen. No real details have been released yet since this is still all up in the air but I can only assume this would be a continuation of the TV series.
"There is an idea for a script and to pick the story up with Buffy older and maybe even a mother," reports Britain's Daily Star
The big question that they need to figure out is if there is still an audience for Buffy. The show has been off the air for 6 years now, but based on DVD sales I would think there is. I know I'm still a big fan of hot chicks.
Source: Flixster