Concert Review - Big 4 - Anthrax, Megadeth, Slayer, Metallica
How to describe a show that's thirty years in the making? An event so domineering it was called, without hyperbole, the largest metal show that the East Coast has ever seen. It was the culmination of a timely anniversary, fan support and the consistently discussed dream of all metal fans world wide. We asked and eventually, with some prodding, New York City's collective thrash prayer was answered.
So, the Big 4 and roughly fifty thousand of their closest friends came by all roads and paths to Yankee Stadium for an evening of heavy metal history and fury.
On the day when the Bronx's council named September 14th, 2011 as "Anthrax Day," the hometown heroes were the first band up. Paired once again with legendary vocalist Joey Belladonna, Anthrax took the stage with the sun still out and got the crowd ready for the evening to come. While Megadeth may be the most technical of the Big 4, and Slayer the most vicious and Metallica the most famous, Anthrax quite possibly is and always has been the most energetic. Still clad in shorts and sneakers, Scott Ian slams around the stage like a man on a mission for metal. Furthermore, the most recognizable member of Anthrax never fails to display his absolute glee at making music for a living. Every second of every minute on stage, Ian is either smiling widely or expending massive amounts of energy in the effort of his music. Crushing through early cuts like "Madhouse" and fan favorites like "Got the Time," Anthrax concentrated their entire effort on their early years. With the exception of two cuts from the new album (which, parenthetically, sound better live than on disc,) everything Anthrax played came from "Persistence of Time" or earlier. That not only set the tone for the day, but was one of the subtle overtures relating to the thirtieth anniversary of the Big 4's debut. Anthrax's best moment came in the form of Belladonna donning his customary native headdress and bringing the walls down with "Indians."
Relative to Anthrax's performance, Megadeth was much more characteristically subdued. Dave Mustaine and company utilized their unflinching dedication to craft to make sure that the assembled crowd received the quintessential Megadeth performance. All of this was set against the back drop of Mustaine's neck surgery on the previous day, which he contended should have kept him from performing. Rumbling through a precise "Hanger 18," Megadeth also dealt their cards from the first half of their career, largely glossing over anything prior to "Countdown to Extinction." "Sweating Bullets" and "Symphony of Destruction" whipped the crowd into a frenzy, but it was the seminal powerhouse "Peace Sells" that left the greatest mark in the memory of those in attendance. Either due to discomfort or some other unknown factor, Megadeth's set was precise but workmanlike. There wasn't a lot of time made for speeches or grandeur.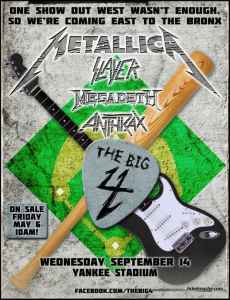 Which leads to the once-and-future-Slayer. Slayer was…well, Slayer. Even without Jeff Hanneman who is fighting off a somewhat serious bacterial infection, Slayer retained their title as the nastiest and ugliest of the Big 4. This is always how the band made its fame, and that image was not only prevalent in the band members on stage, but in the eyes of those who predominately had come to see them. There was no wasted motion for Slayer, and with the highly competent Gary Holt (of Exodus fame,) filling in for Hanneman, no need to slow down or pause for reflection. Slayer was the only band of the Big 4 who went out of their way to display material made after 1992, beginning with "Disciple" and including "Hate Worldwide," "Snuff" and "Psychopathy Red." Those cuts aside, it was all the Slayer we've all come to know and love: "War Ensemble," "Post Mortem," "Dead Skin Mask" and of course "Angel of Death" and the unparalleled "Raining Blood." Dave Lombardo seems set on a one-man mission to absolutely ruin the neck and spine of every Slayer fan with his incredible drumming capability. There remains no doubt in my mind that he is the finest drummer in metal.
Finally, Metallica. Say what you will about Metallica (and many people have,) but they are the reason this show happened where it did and was the spectacle it was. While having assembled Slayer, Megadeth and Anthrax would make for a hugely compelling show to metal fans (see: Clash of the Titans tour, 1991,) to rope in and headline Metallica was to make the Big 4 at Yankee Stadium an event. It is entirely possible that Metallica would have no trouble filling a large portion of Yankee Stadium themselves. To add in their compatriots was a nice bonus for promoters and marketing teams involved in the project and served mostly to add to the grandiose nature of Metallica's legend. It is no coincidence that the question I've received most frequently in conversation about this show is "what did Metallica open with?"
The answer to that question is "Creeping Death," which caught the audience who was expecting that song at the end off guard. But it didn't stop there. The masters of metal steamrolled into "For Whom the Bell Tolls" directly thereafter, leaving no ambiguity as to Metallica's intent for the evening. This was to be a night for the old-school. Surprises included "Blackened" accompanied by a radical light show and the long instrumental "Orion." The only evidence that Metallica had produced any material after their chart-busting self-titled album was the mandatory playing of "Fuel" as well as two cuts from "Death Magnetic."
It is easy to forget amidst all the fervor that surrounds Metallica in the metal community just how talented those musicians are (insert joke about Lars Ulrich's drumming here,) and how powerful and affecting their early material could be. It is nigh on impossible to ignore the balance-tempered ferocity of a song like "Master of Puppets," played skillfully to the crowd on this night. James Hetfield and Kirk Hammett are one of the foremost guitar tandems in metal, especially when backed up by the accomplished, throaty bass of Robert Trujillo.
Metallica's pacing was occasionally uneven as the band tried to mix in "Nothing Else Matters" and other slower material such as "Sanitarium." Still, against the balance of "Sad But True," a pyro-accompanied "One" and "Ride the Lightning," the set was a smashing success.
The night ended in a seeming torrent that began with the obligatory four-band jam session. Eschewing convention and straying from the usual cover of Diamondhead's "Am I Evil?" the assembled metal royalty broke into a spirited version of Motörhead's "Overkill." It was noisy and brash, but then that seemed to fit with how Motörhead would normally play it, anyway. Dave Mustaine still seemed a little standoffish on stage, but that was more likely an effect of his surgery than anything. Kerry King, even while others around him were smiling and laughing, adopted his iconic, unmistakable power stance and played the song with exactly the same conviction as he would play his own. As each drummer took their turn during the start and stop coda, Lombardo proved his prowess by making the kick drums snap like they hadn't for Ulrich all night.
Seeing all of those musicians who are forever associated together on stage for the first time was little like being an observer to four brothers who took wildly different paths through life coming together at a family reunion. The Fun One, the Serious One, the Black Sheep and the Rich One. While all so different, each band seemed genuinely pleased not just to be on stage, but also at each others' success, no matter how relative it may have been. It's possible that the embers of camaraderie were sparked not just by the occasion, but at the feeling that each of them was glad to still be around after three decades.
In the end, they all left save Metallica, who finished off the night with a surging "Battery" and crowd sing-along "Seek and Destroy." The night's only lamentation was that the fans would have liked each set to be two songs longer.
Black beach balls rained down. Happy metalheads milled about, congratulating each other. The bands had made it. We had assembled to see it. It was the event of a metal lifetime.