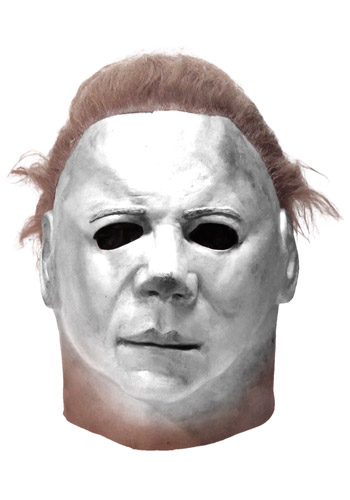 Win this awesome Michael Myers mask!
Want the ultimate Halloween costume? The fine people over at HalloweenCostumes.com are offering up one of these babies to a lucky Bloody Good Horror reader. What you see here is a hand-made, screen accurate replica of the mask worn by Dick Warlock in 1981's "Halloween 2".
From a recent interview with Trick or Treat studios, who made the mask...
We didn't miss a beat on this mask. Everything that is in the Hero mask is on this mask including the glue line, the rot simulation, the needle hole in the neck, the Camel hair, the drooping lip, the flesh color and the exact weathering. It is literally the most screen accurate Halloween mask ever officially licensed and available to the public. It looks like it came right off the head of our favorite psychopath. Not to mention the quality is first rate.
So there you have it. All you have to do is send an email with the subject header GIVE ME THAT MASK! to info - at - bloodygoodhorror - dot - com. Contest runs from now until September 28th at 11:59pm EST. Only one entry per person and only entrants within the continental United States are eligible... shipping will be standard. Good luck, and don't forget visit HalloweenCostumes.com for all your Halloween needs!