Shelf Space: "Q: The Winged Serpent" Blu-ray Review
"Q: The Winged Serpent" (1982)
Director: Larry Cohen
Writer: Larry Cohen
Starring: Michael Moriarty, Candy Clark, David Carradine, Richard Roundtree
Company: Shout! Factory
"Q: The Winged Serpent" follows NYPD detectives Shepherd (David Carradine- Kill Bill, Death Race 2000) and Powell (Richard Roundtree- Shaft) through an investigation of bizzare ritualistic murders being committed to appease an Aztecan flying god named Quetzalcoatl (Q for us lazy people). Shepherd begins connecting dots when a flood of reports come in with New Yorkers claiming to see a giant airborne lizard terrorizing the public. Only one person knows the location of Q's nest; Jimmy Quinn- inept nightclub singer and small time crook. Mass hysteria ensues. It's up to Quinn to disclose the location of the beast and save the Big Apple. But not before the NYPD meets his demands..
After being kicked out of the director's chair from 1982's "I, the Jury", writer/director Larry Cohen (It's Alive, Maniac Cop) decided he wasn't going to leave quietly. Within a week's time, Cohen had a shooting script, David Carradine on a flight to New York and a burning desire to decapitate a couple New Yorkers on film. Movie magic was approached in a true b-movie fashion, utilizing guerrilla film making in the city streets as well as basically harassing the Chrysler building into letting them use the location. Once they got the approval, cast and crew scaled to the top of the monolith for a good old machine gun fight- news reports of potential terrorist activity stirred much concern from the public, resulting in the NY Film Committee reprimanding Cohen and instruct him not to fire a single round for the remainder of the production. LC claims it was no big deal.
Even the animation was done in defiance of the craft; Artists were forced by Cohen to put claymation over moving scenes that he had already filmed- An idea of taboo for those trained in the more traditional methods. Needless to say, their unconventional approach beared fruit in the form of some really neat, high octane monster sequences.
Upon both films' completion, "I, the Jury" managed to go over budget. Only to invoke audiences with feelings of indifference. "Q" went on to be released through Roger Corman's company New World Pictures, claiming the number one slot in every city it visited. (Cohen speculates that had their been additional copies of the film to send to more theaters, his picture could have been number one in the country.)
This review was the first time I've been able to see this movie, and to no surprise, I was pretty impressed by how Larry Cohen manages to make a monster movie of this caliber but still wraps it with an air of sophistication. I view it as a thoroughly hashed out cop story with tasteful notes of monster movie tropes and good acting to boot. Our friends at Shout! Factory have picked this film up and dusted it off for a shiny new Blu-ray Release.
VIDEO: 3.5/5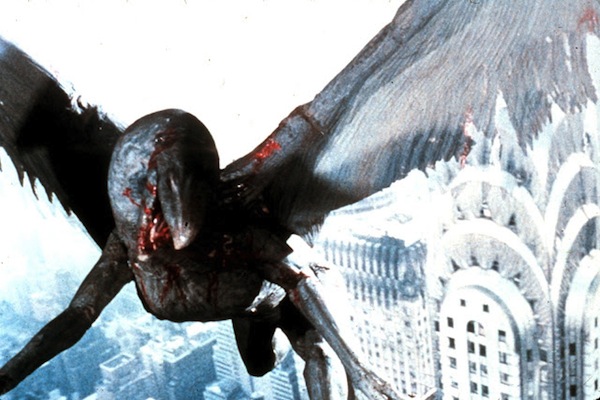 There are definitely many things to commend on this avc encoded, 1080p transfer. Formatted in a 1.78:1 aspect ratio, the wide sweeping helicopter shots show the New York skyline in an exceptional amount of clarity. For the most part, the movie has a nice sharpness but there are occasional shots that are very much on the soft side; Considering a lot of these are guerrilla-style shots of the New York streets as well as scenes used for claymation inserts, I think its deserving of a little leniency from me. Colors are vivid and very true to the cinema color wheel of its time. Film grain retains a natural look with little to no print damage. Skin tones do look a bit flushed for majority of the movie as well as lost detail amongst the darker scenes throughout. I have no knowledge of the original print or the how it looks on the Blue Underground release, but I think it does a decent enough job.
AUDIO: 3/5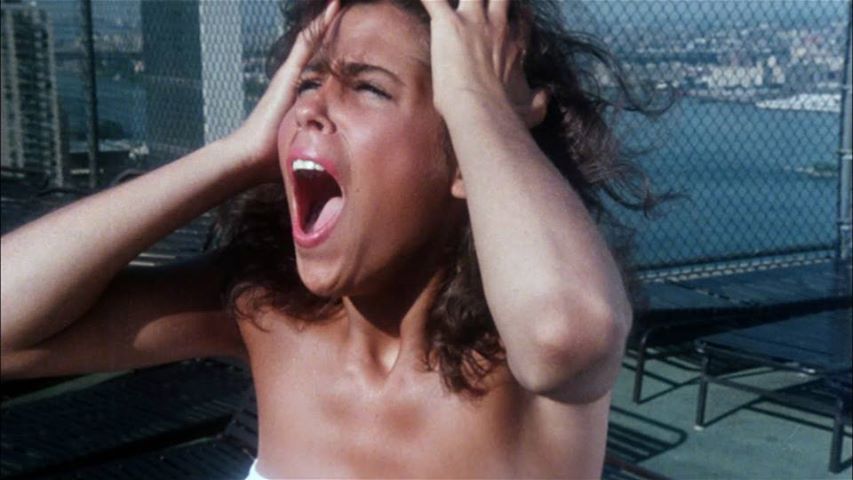 Shout! Factory gives us a DTS-HD Master Audio 2.0 mix. Not most impressive mix coming from Shout! Factory, but still far from anything unlistenable. I personally think the less compressed, roomier sounding approach they take with the dialogue really lends itself to the aesthetic of the film. The score does seem to sit at a complacent level throughout; It would have been nice to have it be a bit punchier in particular heavy-action scenes.
SUPPLEMENTS: 3/5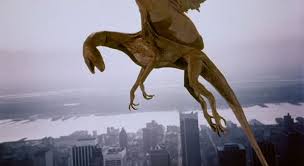 -Audio Commentary with Write/Producer/Director Larry Cohen: The audio track kicks in with a simple "Okay, I'm Larry Cohen and I don't know what I'm doing" and hits the ground running. All 92 minutes of this film are filled with a candid, well-constructed retrospective on the making of "Q: The Winged Serpent". Sometimes when you get directors/actors/writers in the chair to discuss their b-movies of the past, it can come off a bit... "not giving a shit-y". Many times I've seen Shout! Factory bring in a curator to help ask questions to move things along with the seemingly distracted cast and crew-- Larry Cohen clearly needs no such aid. Even with just one substantial supplement, Cohen has single handedly brought it up to a score right up to a strong 3.
-Theatrical Trailer
Should I make room?:
For those who commit their loyalties to the American made monster movie, this is something I think you should pick up. Shout! Factory has cleaned this piece up nicely and put a very reasonable price tag on it. Commentary buffs and aspiring film makers alike will also find Cohen's track packed with film school lessons and fun b-movie anecdotes that make the purchase worth it by itself.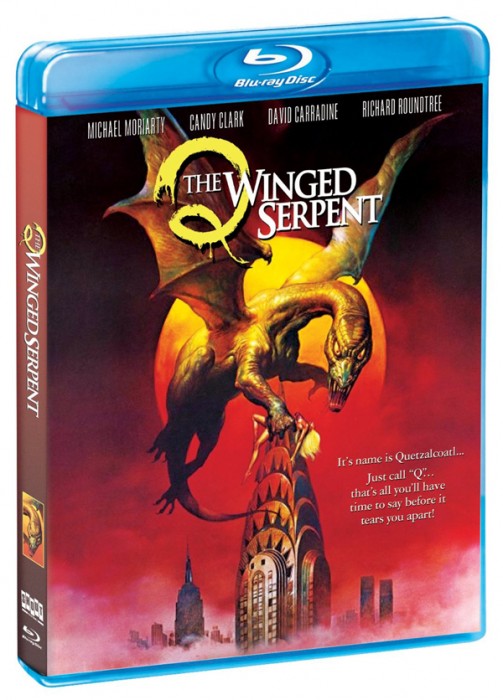 BUY IT HERE