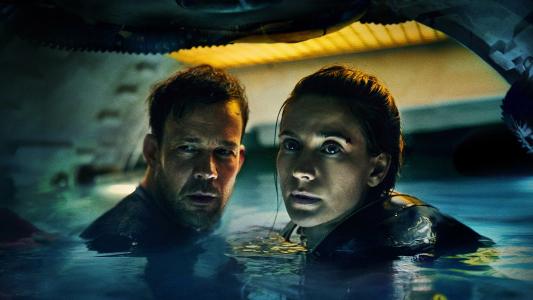 The Chamber (Movie Review)
James Cameron's 1989 sci-fi thriller The Abyss took audiences to the steely blue depths of the Caribbean where the film's plucky, devil-may-care bunch of oil riggers (in these movies aren't they all?) square off sub-a-sub with a rogue SEAL team. Cameron's film represents one of the final contemporaneous Cold War allegories in mainstream U.S. cinema. Though multiple edits and a ballooning budget kept the film from financial success it's stark verisimilitude coupled with groundbreaking special effects endeared it to many critics. Though writer/director Ben Parker's The Chamber may forgo the aliens for more down to earth concerns his film offers a similar set of pressure cooker thrills from beneath thousands of pounds of pressure.
Like The Abyss Parker's The Chamber is framed by a current context of global political affairs. This time the drama emerges between United States, North Korea, South Korea, and China. While these events are announced in the film's opening credits a majority of its action takes place in the claustrophobic confines of a Cold War area research submersible called the "Aurora". Matts (Johannes Kuhnke) is forced into accepting a last minute mission, shuttling a shadowy group of U.S. military personnel. Led by Edwards, or "Red" as they call her (Charlotte Salt), the team consists of hothead Parks (James McArdle) who runs communications and Denholm (Elliot Levey), the calm cool center of the group who also, surprise, can pilot a submarine. Once at the bottom of the Yellow Sea, the group sets out to locate a mysterious object. But after things go awry the group must rely on their knowledge and experience to solve an intensifying series of events with McGyverian aplomb.
Parker approaches the locked door setup with an assured stylistic hand. Cinematographer Benjamin Pritchard's color palette effectively shifts between the cold, bland steel of utility and the sickly chartreuse of emergency lights and glow sticks. As events in the sub begin to deteriorate with somewhat gruesome effects it's resemblance to a tomb is unnerving. The film's visceral components are highlighted to great effect by James Dean Bradfield's score, which at once seems to be unobtrusive electronica only to have its repetition create a sensation of the encircling surroundings.
While The Chamber's tone and suspense is immersive the film's script can't help but fall back on cliché lines borrowed from other military focused thrillers. In particular the film's opening act relies on pat exchanges between the U.S. military personnel who, as is the case in these movies, dismiss the warnings of their civilian companion with a cocky bravado. When the situation inside the sub becomes dire lines like, "think of your kid", or "you're going to make it out of here", or "don't say that", are all the characters are able to muster.
The lack of character depth here is made all the more apparent by the film's third act when we begin to learn more about Red's background. It's an exchange that feels too little too late, somewhat a last gasp at making the character more than just a military leader who is defined by being a woman in an ostensibly man's world. Early in the film she is introduced to the audience via a surveillance camera as a group of South Korean sailors watches. As she removes the head of her wet suit the sailors announce, "It's a woman!". When Red reveals the origin of her nickname and the sexism she encountered during her training it is within the context of Matts's attempts to comfort and protect her. There's a palpable sense that Red is in fact a woman only so that she may be physically in the close proximity of the film's protective male lead.
Parker's film has much to appreciate in its technical attributes. Once the film transitions into a pure survival thriller it becomes a ticking clock in which each strike of the second hand could be death or salvation. Kuhnke - a Sophisticult favorite and one of the headliners of 2014's Force Majure - in particular gives a subdued performance that works to great effect in contrasting the film's more dire circumstances. Just be prepared to hear the likes of "that's an order, soldier" yelled in stern gravity…a lot.