Magic (Movie Review)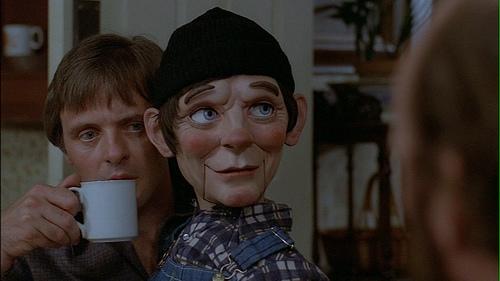 As a horror film reviewer, I rarely get to use the words "academy award winning/nominated" in that exact sequence in my reviews. It's even rarer that I get to use that distinction to describe numerous people involved in a given movie, especially one that isn't highly regarded or frequently talked about. Directed by Richard Attenborough, "Magic" is an example of how the right combination of people behind and in front of the camera can craft a quality film out of a completely wacky premise, and surprise a horror fan that feels like they've seen it all.
"Magic" stars Anthony Hopkins as Corky, a shy magician's assistant who decides to break out on his own. Initially, his act flops, but after introducing a foul-mouthed ventriloquist dummy named Fats into his act, he manages to gain a degree of fame and notoriety in a jaded entertainment scene. Aided by his agent Ben Green, played by silver-screen mainstay Burgess Meredith, Corky makes it onto various TV shows and is on the verge of landing his own, as long as he can pass a wellness test. He refuses to take the test "out of principal," and sends himself into exile, landing at the Lakefront property of his former high school crush. Even as he is hidden from his everyday pressures, he's unable to separate himself from Fats and descends into madness.
While "Magic" is technically a spin on the "dummy has a mind of its own" shtick, the story is told in a much more personal way, choosing to focus on the Corky character as opposed to the dummy. For the greater part of the first half of the film, there is very little about the experience that is horror-related, other than quick glimpses of the seeds of the main character's eventual breakdown. Its not until Corky is deeply involved in an affair with Peggy Ann Snow, played by Ann-Margret, that what originally seems like a slow decline starts to pick up speed. In one scene in particular where Corky forces Peggy to help him with a "telekinetic" trick and loses his temper, the charming craziness that was part of the Corky character from the get-go transforms into something far more sinister.
Due in large part to a very strong performance by Anthony Hopkins, "Magic" escapes the campy stigma that its name and premise would imply. Instead of relying solely on the inherent creepiness of an ever-present ventriloquist dummy, Richard Attenborough choses instead to fully develop Corky's in various ways, including one of the most awkward "love" scenes ever committed to film, which replaces passionate lovemaking with horrendous mouth rubbing. In choosing subtle (and sometimes not so subtle) character development over the obvious, Attenborough takes a major risk, and largely succeeds, mostly because he's a very good director and Anthony Hopkins is a great actor. So good in fact, that for a large part of "Magic," the viewer may even occasionally forget that he/she is watching a horror film, that is of course until (SPOILER ALERT) Corky bashes his agent's face in with the business end of his wooden companion and sets the horror portion of the film into motion. As a film "Magic" manages to walk a tight rope between excellent performances/production values and jarring moments of lunacy in a way that seemed to lose favor as the insane character studies of 70's horror gave way to the full on schlock of the 80's.
For all of the praise that I can give to "Magic" as a film, that's not to say that it's perfect. As I said before, the decision to go heavy with character development is a risk, and one that sometimes doesn't pay off. Although there isn't a ton of what could typically be called "fluff" here, the film does drag a bit in parts, especially in the love affair portion of the film. For a film that's supposed to be about insanity, there's a bit too much relationship drama before the bloodshed. Thankfully, once Corky goes fully off the rails, "Magic" takes a turn for the awesome, spiraling out of control in the way that you hoped it would all along, managing to satisfy both the character development aspect and the balls-to-the-wall craziness aspect.
Overall, it's hard for me to believe that "Magic" has wallowed in obscurity for so long. It's nowhere near "The Shining" in terms of quality, but when held up to a lot of the films we hold dear as horror fans, it holds up pretty damn well as an insane character study. It's definitely something that I wouldn't mind revisiting a few times. If you're an Anthony Hopkins enthusiast that is looking for a non-Hannibal role and still can't get the bad taste of "The Wolfman" remake out of your mouth, say hello to your new best friend!