Catching Up With The Atomic Clock - An Interview with Gene Hoglan
Gene Hoglan. The Atomic Clock. Testament. Dethklok. Death. Fear Factory. Strapping Young Lad. All these and many more are just a few lines on the resume of metal's most productive and prolific drummer. In truth, his name has become ubiquitous with high-end heavy metal drumming. By anecdote, he even gave the legendary Dave Lumbardo some tips. But the topic on this day is a topic that proved to be very near and dear to Gene's heart; Meldrum's long awaited, finally released finale, "Lifer." Read on to see a candid conversation with a thoughtful guy.
M. DREW: First of all, let's set the record straight. Are there any bands you're NOT in currently? It seems like every third press release I get has your name attached to it somewhere.
GENE HOGLAN: Oh, yeah sure. Thank god Michael Jackson died, or I'd probably be playing for him, too. People ask me 'what bands are you in?' and I'm like 'all of 'em.' [laughs] I put the 'ho' in Hoglan.
M.D: When was the last time you took time off?
GH: I think probably in the '90s. Every year I tell myself 'this is the year you're gonna take two or three months off, and go somewhere' or something. I've been promising myself that directly for at least the last ten years. It hasn't happened. But that's okay, I'm fortunate to be able to be so busy. I get rest in three day spurts. If I get a week off, boy I'm set.
M.D: Speaking about Meldrum's "Lifer," as it finally comes to fruition, how proud are you be able to finish off the album? What made this the project that you couldn't leave undone?
GH: Just my relationship with Michelle [Meldrum] and her family. When Michelle passed, obviously the tragedy that was, that could have eaten us all up savagely. We were fortunate to be able to have something to focus all of our energy on, like 'let's finish this record for Michelle's family.' And for her fans, and to keep her spirit alive. It took us two years to finally be able to get it out, but I am very proud, and this was a project I obsessed over drastically. There was no way it wasn't going to come out. Just to keep Michelle's spirit alive and she's with us all the time. I wear her ashes around my neck, she's always around me. We loved her so much, man. She was my best friend for many, many years and the fact that we started off playing in a band together when we were both kids, that was really cool. With all that history and the fact that I loved the music that we were writing…Personally, it was like 'this needs to get out!' We were really stoked when we started writing this record, we wrote for it really fast. We wrote the majority of these songs in about twelve days. Just the music, later in the studio we wrote all the vocals and stuff. We were really stoked, and Michelle was really stoked on the new band, the new material. We weren't gonna let it go out like that. We're gonna keep her legacy alive, all the possible recordings are gonna end with a big loud crash, bang, all of that. I'm really proud of the record, I love the record, I love all of our performances on it, I love the songs, everybody did a great job, the packaging is fantastic, it's all just a tribute to Michelle.
M.D: When you took hold of the songs on "Lifer," what was their state of completion?
GH: The drums were the only things that were completed. Michelle had laid down some really rudimentary scratch tracks for guitars. So when Michelle passed and we decided to carry on and finish the project., we were tying to keep it alive, somehow. We had hired Laura Christine from San Diego's Warface to play bass for us. However, she's also one of the most incredibly storming guitarists alive. She's truly a psychotically talented guitarist. So she took on the task of the songs with nobody to teach them to her. I was on tour with Dethklok. As soon as we had her services, I pretty much had to leave a few days after that to go hit the road with Dethklok. Laura figured out all the parts on her own. While I was on tour, we started completing the record in Vancouver. We sent our vocalist, Michelle Madden, up to Vancouver to track the vocals. There were no vocals. We were getting in the studio so fast that we didn't have time to write or work on any of the vocals. So the fact the vocals came out so good is a testament to Michelle, she did some really killer vocals. Our producer, Rob Shallcross also was just a good, firm hand in the studio. After the tour, Laura and I headed up to Vancouver, she tracked all the guitars and I was the tyrant making sure everything was done just perfect. I was getting really obsessive about it because there wasn't Michelle [Meldrum] to say 'that was good, let's move on.' There was just me going 'Do another one! Do another one! Do another one!' driving both Laura and Rob crazy. I drove everybody crazy, I was a taskmaster. But I had a vision, and I was trying to have a vision for two. Not only did I want the vision for Michelle to continue, but I had my own vision, because I was the only one who could speak to it. I knew these songs. I'm happy the album is out, people seem to be enjoying it, and that's all I can ask. It's Michelle's last song that she did.
M.D: I think her career came and went so quickly, I don't think people have a clear picture of what Michelle Meldrum the woman was like. You knew her for a long time, what kind of person was she, what was her approach to music, what were her passions?
GH: She was awesome, for one. She's one of the funniest people I've ever met, her and Laura Christine, are two of the funniest people I've ever met. Michelle didn't have typical girly boundaries. Like, you can't say the word 'cunt' in front of her. That was NOT Michelle. Even in the intro of the record, we led it off with 'cunt, it's a term of endearment.' Michelle is probably howling her ass off at that thing. She wasn't very dainty. She was great, she was so funny, so caring, one of the most fantastic human beings ever. That's my take on Michelle and anyone who ever met Michelle also knows that she was awesome, so cool, so engaging, just this really down to earth and really hilarious woman. She found humor in everything, which is one of the reasons we got along. We were just kids when we met and she was just really, really funny.
M.D: Do you find as you release "Lifer" and you do these interviews and things like it, do you find that it's all a little bittersweet?
GH: Absolutely. I would rather have "Lifer" not come out and have Michelle still be here. That's just a fact. I would rather have put out ten shitty records with her than one amazing album without her. I wish "Lifer" existed with her [pauses] …and I'd trade all my records to have her back.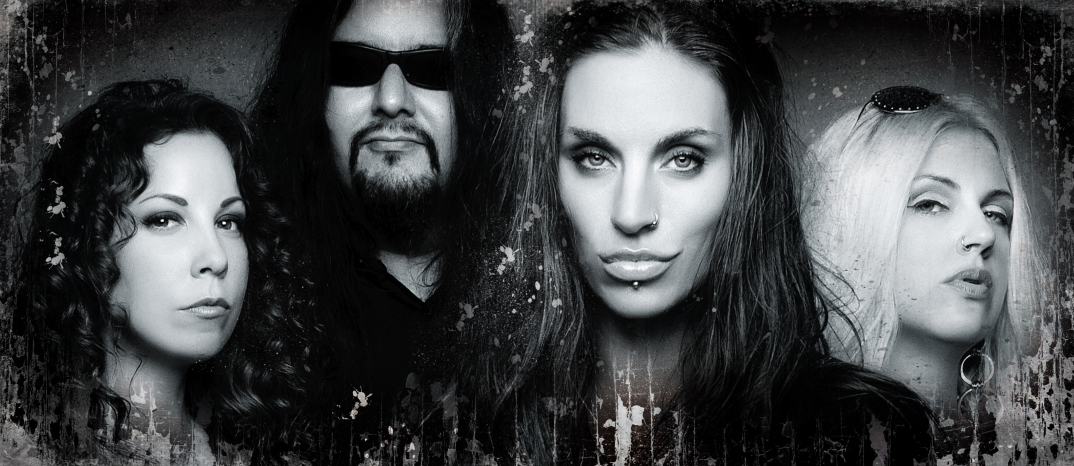 M.D: If you could prognosticate, how far could Meldrum have gone as a band?
GH: Well, they were always on tour. Meldrum probably would have been back out on the road in Europe with Motörhead or Black Label Society. I know there were talks of possibly some Iron Maiden dates, which is surprising, but she was tight with those guys and they were the ones that offered. Meldrum would have just kept doing their thing. I mean, granted, they were never the largest band in the world, we understand that, but we really dug this material and would have been a really hard working band out there laying it down heavy for everybody. It would have been a touring act, it would have been awesome.
M.D: Speaking of laying it down heavy, this particular style of heavy metal, with this swaggering blues root to it, it seems like that genre is fading. How did Meldrum come to adopt it?
GH: That's a good question. When it came to Meldrum, I was always the buddy who could help out when I could. Like, 'I've got some time on the table, you need a drummer for the tour, let's do it.' When Moa [Holmsten] and Frida [Stahl] left, that left Michelle pretty heartbroken. She was going through some 'what do I do now? Do I just pack it in? Do I come up with a new band, and do I not call the next band Meldrum?' And I was like 'No. It's your band, it's your name, do what you want. Give it a couple of years and let's keep going.' Michelle and I were both thrash metal fans. That was some of her early favorite stuff, all the early thrash from 1984. She was immersed in the Bay Area Scene when I met her. If she had stayed up there, she might have ended up joining one of these bands that came out and did some stuff. So that was a concerted effort to start writing a little heavier. As you may recall, the earlier Meldrum stuff was kind of like a Black Label Society sort of thing. We wanted to start exploring, be heavier, more brutal and all that. She knew exactly what Michelle Madden could do on vocals and she was stoked with it. Wow, she can do death metal AND sing like an angel? Let's do it, let's do everything. That's where Meldrum was headed musically, I think it would have been way heavier. There's blast beats on this album for "Walking Point." That was Michelle saying it would be great for us. Laura Christine has a full death metal background, and I'm not saying we would have gone full death metal or anything, but the heavier element would have been a part of it. The blues stuff might have gone by the wayside, but I don't know. [Michelle] had a wide range of stuff she liked.
M.D: Laura Christine and Michelle Madden are still in the fold and obviously you're still around…is "Lifer" the end for Meldrum?
GH: We do look at the releasing of the album as a bit of closure. Michelle Madden is down in Australia, Laura Christine is based in California. The band would have been based in California. We had asked Frida Stahl to rejoin us and she was into it, but she lives in Sweden. So the logistics of everything were hard. When Meldrum was a Swedish-based band, everything was pretty easy. Michelle lived in Sweden, had a Swedish band, no problem. Now, the band became kind of a multi-national band, and it wouldn't have been the easiest to carry it on. So that's why we wanted to celebrate the whole shebang by releasing the record. And I'm gonna keep it in my forefront for a long time, I sell it out at the merch tables [with Testament] just so people can get exposed to it. It's a record that I'm really proud of.
M.D: You've done a lot of things, been a lot of places, seen a lot of people, is "Lifer" the pinnacle achievement of your career?
GH: It's one of many for many reasons, and most of those are personal. But I like the playing on it [too]! I like my playing on it. I have a lot of pinnacles. This one for personal reasons. This was a personal obsession, to get this done and get it out and that made it a pinnacle of my life.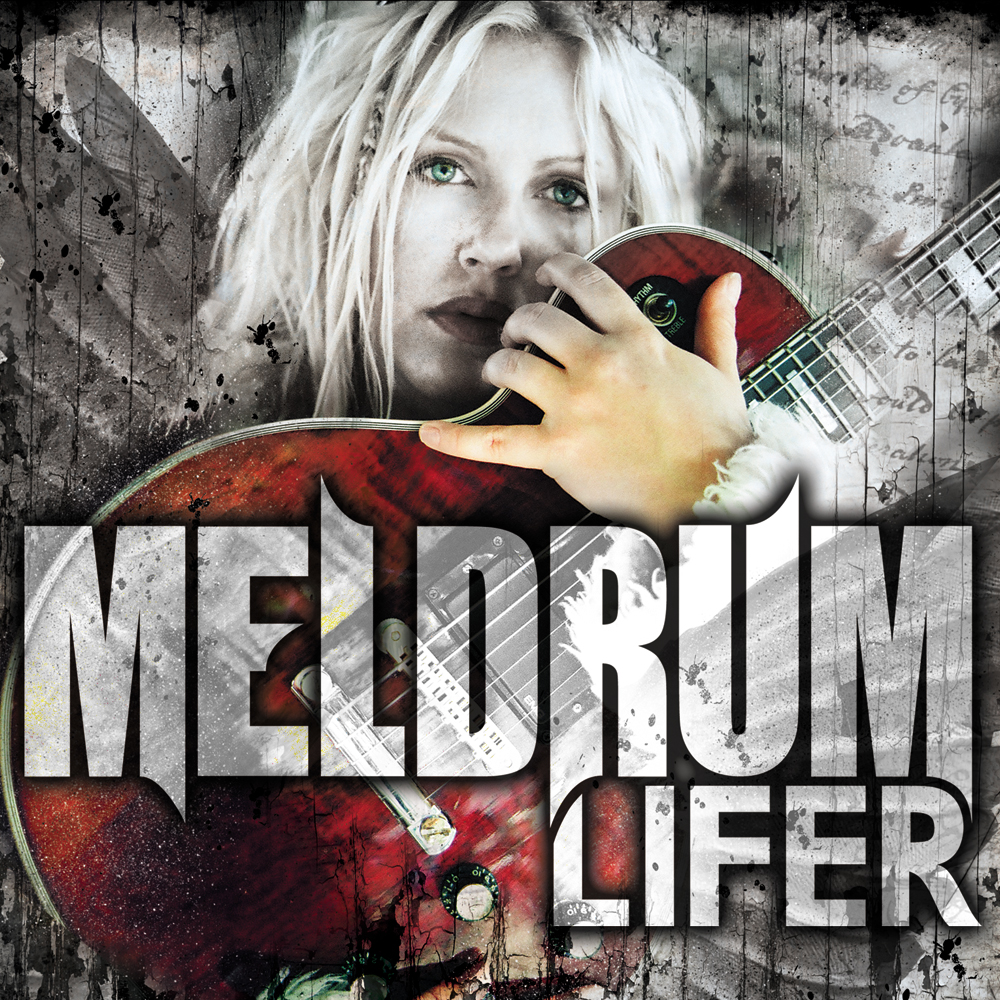 M.D: Off topic, I talked to Brendon Small a while back when he was working on Dethklok and Galaktikon and I'll ask you the same question I asked him: what is it like being a member of a band that sort of doesn't exist?
GH: [laughs] It's been fun. We're pretty anonymous and all that. It's pretty fun. People like their cartoon death metal, we like to give it to them. It's actually kind of become a band, you know? We spend two months every couple years on the road together, and in the studio, I know there's only two of us doing it, but there's kind of a band vibe around the whole thing. There's a lot of 'how would this come across as a band?' If you notice, the Dethklok material has become a little more serious. Not just one guy writing for himself going 'hahaha, that's a really funny song.' It appears like a band, and that's not a bad thing.
M.D: Everybody knows that drummers are a fraternal order of sorts, so I'm putting you on the line. Who, living or dead, is the best drummer ever? And if you think it's you, it's okay to say so.
GH: Stevie Wonder. That's who is my personal favorite. You'd have to make an argument for Buddy Rich as the greatest drummer ever, he does stuff that we can't figure out, and we're a bunch of youngsters compared to him. Watching him at his drum set is really incredible. Stevie Wonder is my favorite drummer because he has such an odd approach. His rhythmic sensibilities are obviously insane, but he's from Mars, so he plays drums like a Martian. Where he lays his fills down…I'm sure that's why he plays his own drums on so many of his records. I can see him saying to a drummer 'here's where I want you to lay a fill down' and the drummer would say 'I can't play a fill there, because NO drummer would play a fill there.' Everything [Stevie Wonder] does is just so perfect. When you tell people Stevie Wonder is your favorite drummer, people go 'what the hell? He played drums?' Yeah, he played drums on a whole lot of songs you're really familiar with. But all the greats, Neil Peart, Tommy Aldridge, Dean Castronovo, Cozy Powell, those guys are all my faves, too, their rock and metal stuff had a huge influence on my burgeoning career.
M.D: As the most well-traveled man in heavy metal, who do you see as the future of the genre? Where do you see the music going, and what young artists appeal to you?
GH: Well, I figure any band I'm in is the future [laughs]. Definitely Gojira. I think they're poised. You had Metallica twenty years ago, ten years ago you had Mastodon who was going to be the next Metallica. I'm not quite sure they did that, but their foundation musically is very solid. I think Gojira is the same way among a lot of the bands coming up. They have my support, they have for eight years now. I think they are a forward thinking band. I must admit, a lot of the newer stuff, I can now understand how when thrash metal started taking over the traditional heavy metal, I can now see how the traditional heavy metal people thought it was just noise. [They thought] there's no melody, there's no thought, so I don't like this music, these darn kids, this racket. 'We used to headbang at shows, now they throw themselves around the pit. It's stupid!' You have all these young bands who have the exact same hairstyle now, their music has he exact same sound as the next band, I can see where the traditional heavy metalists where scratching their heads at the whole thrash movement, or death metal. I scratch my head a little bit at a lot of the stuff that's out now, because it's like 'why do you all want to sound exactly alike?' I grew up in thrash metal. I know that Metallica doesn't sound like Slayer, who doesn't sound like Megadeth who doesn't sound like Testament who doesn't sound like Anthrax, all those bands sound like themselves. Destruction didn't sound like Kreator. But a lot of people who weren't in the middle of it said all that stuff sounds exactly the same. So I get it. I'm always listening. I admit that a lot of the Swedish metal is not quite my taste, but I like stuff that is different.
M.D: Have you noticed that it seems like in reaction to all those bands that sound the same, and all the digital perfection, there's a wave of bands that seem to want to return to the analog Thin Lizzy/Deep Purple sound?
GH: Sure, absolutely. And that's great. That's awesome to sound so traditional. But for me, how are you going to improve upon Thin Lizzy? How are you going to improve Black Sabbath? They already did that. I like bands, and like being a part of bands, that break down the traditions. When I write my stuff, it doesn't sound like anybody else. That's how you stay a leader, is if you don't fall into having a bunch of Metallica riffs on your record, or sound like Megadeth or Deep Purple. That's great that you wear your influences on your sleeve, but that's really limiting, I would imagine. Okay, you want to be the new Deep Purple or Thin Lizzy, but I want to be the new thing you've never fucking heard in your life. That was part of being involved with thrash at its inception, is nobody was doing it. It was too heavy to carry over into the masses back when I was a young, hardcore 'this is too heavy for people to like, so that's why I like it.' But I was always one of those snobs. I was the biggest Iron Maiden fan in the world until "Number of the Beast" came out and everybody was singing "Run to the Hills." They weren't my band anymore. I was just a brat.
I like bands that forwardly think. Try new influences, try to absorb things outside your genre. I think a metal band that sounds like, I don't know, Marvin Gaye, but really heavy, that would get my attention. Last week when we were rehearsing for this tour, Testament rehearses at a place called Soundwave in Oakland. There was this young, grind-y band rehearsing, they're playing some wicked new math metal, killing stuff, really good. Across the hallway was a rhythm and blues soul band with a female singer. The metal was drowning out the soul band, but the vocalist was singing, and you could hear her chocolate getting in the grind-y band's peanut butter, it was amazing. It was so awesome! I was like 'this is the best thing I've heard in a long time!'
M.D: We'll get you out of here on this: As one of the world's greatest drummers, what's your opinion of drum triggering?
GH: Triggering itself is fine; triggers themselves are just a sound. If you're talking about gridding and all the other stuff that people are confused about, with bands gridding themselves in the studio to make their drummer sound perfect when he's not? I'm not so thrilled with that. It's done to me every now and then. I go 'why? I played that perfectly.' You want to make it sound like a machine? I am a machine. I laid that down perfectly, and you want to grid it? That's why you play live. How you play live is pretty much the proof in your pudding. If I play for Fear Factory or Strapping Young Lad, yes, these bands like to use the modern technology. I'm gonna do it exactly like it is on the record, live, because that IS me doing that on the record. I can't wait for the Viking album to come out. It's an album I did with a band called Viking who were on Metal Blade twenty five years ago. It was not recorded to Pro Tools for gridding because there was no gridding available. You're gonna hear how Gene actually fucking plays.
Triggers themselves improve you as a drummer. If you're playing with triggers, you better be tight, because you can't bury kick drums in the mix if they're triggered. They tightened up my playing drastically. I have mine set to the 'non-sensitive' end, you have to kick the shit out of my drums to get them to trigger. If you're one of those guys who sets them to the most sensitive reading possible and you just feather dust the kick drums, you're going to be a crying little baby on my kit. So I embrace the tonality of it. It's not a bad thing, if you can play with triggers and be honest about it, and honor yourself and respect yourself, and actually do it properly. Don't just set your triggers to be breathed on and set your beater balls against the kick drum and wiggle your feet. A lot of those Norwegian black metal bands do that, which makes me go 'really?' If you can't do it, don't do it.