Concert Review: The Sword, Gypsyhawk
The Middle East in Cambridge, Massachusetts is a wonderful place to see a show, offering a fill menu of quality items upstairs and then…the basement. Going down those black, diamond plate steps into the din of the restaurant's basement is enough of a sensation to make the concert patron feel like he or she is a part of something. You become a member of the privileged few, the crowd who is enough in the know to want to know more about the evening's music to come.
And come they did. A full sell-out crowd of more than five hundred dutifully and joyfully filed into the recesses of Middle East's erstwhile concert hall, picking their spots on a floor only slightly larger than the garage in a firehouse.
The air was thick with hipsterdom and men who take the notion of 'Movember' very seriously. Mixed in were the mainstays of heavy metal; a couple Pantera shirts, some studded vests and a wide variety of tattoos ranging from creative to ill-advised. Pabst Blue Ribbon was being bought like a storm was coming and there were scraggly beards and stringy hair everywhere. My wife spotted a man wearing thick-rimmed glasses with no lenses in them, which is a poor idea unless you are either wealthy enough to be called 'eccentric' or Russell Westbrook. Even if you're Russell Westbrook, it's not the best idea you've ever had.
As a younger boy or girl, you ever have that uncle who drank a lot of beer, rode around in a van listening to late-era classic rock, was of questionable employment and talked non-stop about the glory days of his garage band? Well, there are four of your uncle in Gypsyhawk.
An apologetic throwback to the days when rock and roll was heavy, dirty and bluesy (not always in that order,) Gypsyhawk brought their music to vibrant life on the low-rise stage, thundering through a workmanlike set that snapped the crowd into attention and never let go. Gypsyhawk remains a band about whom two things are undeniably true; first, that they have not set out to reinvent the musical wheel, feeling content to blast blues and rock and roll through their amps. Second, that they don't care if it's been done before, it is their intent to do it best.
Gypsyhawk played with set with reckless abandon, throwing notes at the blown-over crowd like it was still 1977 and the simple mantra was 'the louder, the better.' The band came prepared with the best tracks from their recent release "Revelry and Resilience," including the feverish and infectious "Hedgeking." Each song was introduced by the slurred, mumbling visage of Eric Harris, who would seem inebriated beyond comprehension on stage, but then would fool everyone by gutting out one virile performance after another.
For all that the California-based band made waves with new cuts like "The Fields" and old favorites like "Gypsyhawk," they truly left their indelible mark with a spot-on, recorded-quality cover version of the too-often-overlooked Ram Jam classic "Black Betty." For those who knew the song, it was a smile-inducing homage to the yesteryear of classic rock and the roots of metal.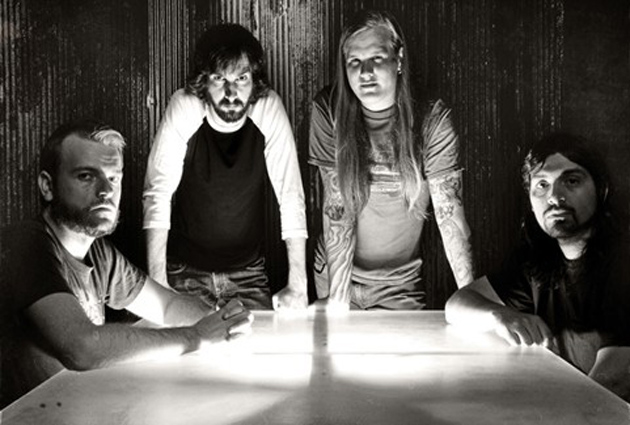 All the press releases and information available concerning The Sword's new album "Apocryphon" pointed to one indelible conclusion; Camp Sword has run out of patience. The band wants, nay expects, "Apocryphon" to be the big break they've deservedly yearned for since "Gods of the Earth." Armed with heaps of critical praise and a top twenty slot on the Billboard 200, The Sword have this new album in one hand and a guitar in the other, ready to charge the world and command the attention of anyone near by.
Yet, this is where the crowd faltered. Starting from the middle of the house and going to the back, it was impossible to ignore the bevy of loud side conversations going on, even as the band on stage, one of the best bands working today, blasted through the new title track and "Freya."
In total, six cuts from "Apocryphon" dominated the set, whether it was the brooding hammer of "Seven Sisters," or the…well, brooding hammer of "Cloak of Feathers." That makes it sound much more mundane than it really was, because remember, The Sword is a band on a mission, here.
Diligent readers will remember that the pages of this very website said that "Apocryphon" most closely resembled The Sword's debut record, "Age of Winters" in scale and scope. It has come full circle, as that album was the second most frequently visited, with four cuts including perennial crowd favorite "The Horned Goddess," and a surprise encore closer with "Winter's Wolves."
It must be said that the unwavering insistence on "Apocryphon," while understandable, made the set seem longer than its ninety minutes. Frequent concert goers will recognize this feeling as the inkling that you know what isn't going to be played next, so the lack of suspense makes the evening go by more slowly. Fans of "Gods of the Earth" and the incredibly impressive "Warp Riders" were likely to be a little let down, as the two albums combined for three appearances, though the band really killed it for "Tres Brujas," and played all of their selections with vigor and confidence. It was nice to hear B-sides like "Hammer of Heaven" and "Codex Corvidae," but the conspicuous absence of longtime closer "The Black River" was noticeable.
Still, The Sword brought the roof crashing down with their skill and tact for riff-rocking, closing their set proper with an impressive panoply of neck damaging cuts, beginning with an excellent "Maiden, Mother and Crone" and closing with an equally pounding "Veil of Isis."
If you've never seen either band before, this is a good time to see a rousing double bill together, and cross both off your list.