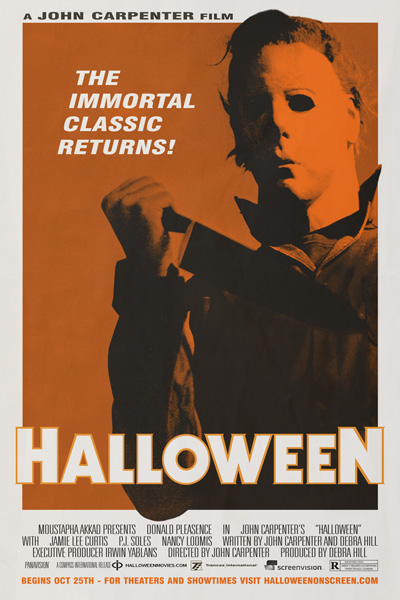 Carpenter's "Halloween" coming back to theaters
Years ago I saw John Carpenter's "Halloween" on the big screen, sort of... I showed up to the screening incredibly excited, but was quickly disillusioned when I realized what I was watching was a DVD of the film projected on the big screen. The end product of this was a muddy, dark picture with terrible sound. Needless to say, I'm eager to wipe that experience from my memory.
Turns out, I might get my chance, as "Halloween" is coming back to a very limited number of theaters this October. Here's the details...
Screenvision, a national leader in cinema advertising sales, services and content distribution, has teamed up with Compass International Pictures and Trancas International Films to bring John Carpenter's immortal 1978 classic "Halloween" back to the big screen. This nationwide release, beginning October 25th with select showings through October 31st, will be the widest distribution the film has seen since originally shocking audiences in 1978. This cinema scare classic will be presented in a striking new HD transfer and 5.1 audio.


Screenvision's presentation of "Halloween" will also include an exclusive documentary short entitled "You Can't Kill The Bogeyman: 35 Years of Halloween." The documentary focuses on the undeniable impact the film, and series, has had on culture and the genre. A full list of exhibiting theaters will be announced soon.


In the film the villain, Michael Myers, has spent the last 15 years locked away inside a sanitarium under the care of child psychiatrist Dr. Sam Loomis. On October 30, 1978, Myers escapes and makes his way back home to Haddonfield, turning a night of tricks and treats into something much more sinister for three young women, including Laurie Strode, the star-making role for Jamie Lee Curtis. Dr. Loomis is their only hope, but will he find his shadow-dwelling patient in time?


"We are thrilled to bring John Carpenter's original Halloween back to the screen after almost 35 years," says series producer Malek Akkad. "We are excited for fans from coast to coast to finally get the ultimate theatrical experience."


Darryl Schaffer, EVP of Exhibitor Relations, Screenvision said, "We're excited to bring the movie that helped define the horror genre back to the big screen for this timely exhibition."