Box Office Special - The Knowing's the Thing
Though the folks behind "Disaster Movie" apparently didn't get the memo, the genre has been in decline for sometime. The last legitimate success, "The Day After Tomorrow," came five years ago, opened at #2, and only really entered the win column with a very strong overseas showing. Since then we've seen only two movies that Box Office Mojo lists as disaster films -- "War of the Worlds," which always struck me as more of a sci-fi thriller though it probably does fit the bill; and the disastrous flop "Poseidon"in 2006. That's a steep drop off from the hey-day of the most recent disaster movie cycle which saw half a dozen films succeed between 1996 and 2000. Whether viewers have lost their taste, or studios have lost their risk-tolerance (disasters flicks are typically expensive) isn't entirely clear, but it's probably some combination of the two.
This weekend, Nic Cage -- he of "National Treasure" and "Ghost" riding but also "Adaptation" and "Raising Arizona" -- stepped into this void with "Knowing." And while the headlines will read "Knowing at No. 1," a $24 million dollar showing is not exactly a dominating opening. Sure, it's not quite "Poseidon's" $22 million, but it's not even in the same neighborhood as "Day After" and even comes in lower than last year's disaster/horror/unintentional-comedy mash-up "The Happening" ($30 million).
Interestingly, for Nic it's not an outright failure, as many of his recent vehicles have been. Consider in the last four years: "Bangkok Dangerous" and "Next" opened at $7 million, "The Wicker Man" and "Lord of War" at $9 million, and "The Weather Man" at $4 million. Sprinkled in there have been some fairly dominant showings in the "National Treasure" films, and even the much-derided "Ghost Rider" opened at $45 million. Barring a really nice string of successes, it's enough to wonder if Cage's hold on "Hollywood royalty" status might be slipping a bit. I for one wouldn't mind if it meant a return to challenging and engaging roles, because behind all that garbage is an actor that I've enjoyed many times.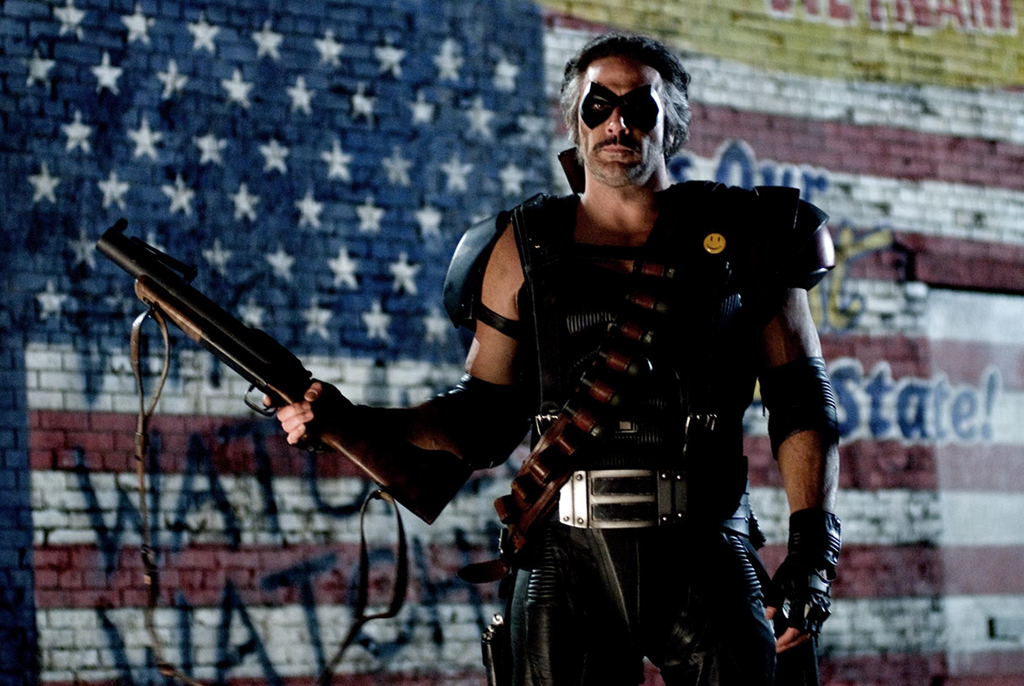 The rest of the top ten films don't contain many other storylines that we haven't covered here. "Watchmen," the big story two weeks ago, has essentially made back its production budget in world wide revenue, but it's lost any semblance of momentum, and there would seem to be a real threat that future "risky" comic properties will receive such strong backing. Of course, the Spidey's, Iron Man's and the X-Men, will continue to get green lights (though the latter will get a compelling case study in a couple of weeks with the "Wolverine: Origins" film). But more marginal comic properties that have been rumored or even gone into development might be on a tighter leash if execs fear that "Watchmen" is the canary in the nerd-consumption mine shaft.
Also posting less than inspiring numbers was last weekend's opener "Last House on the Left." Frankly, this isn't a shocker, as the film likely drew most of its core audience on opening weekend, and others were turned off by the dialogue that's been going around about the violence.
Next week, though, horror will get another shot to impress as "Haunting in Connecticut" will roll out to most theaters. This will be the 4th PG-13 release ("The Unborn," "The Uninvited" and "Knowing") of 2009, and it will do battle with some other monsters, only these will be battling aliens in the 3-D kids film, "Monsters Vs. Aliens." Lots of places will also be getting the latest John Cena joint, "12 Rounds." Between this week's new releases and the varied offerings on slate for next weekend, viewers will have an embarrassment of riches to choose from genre-wise, so it should be fun to see what shakes out.