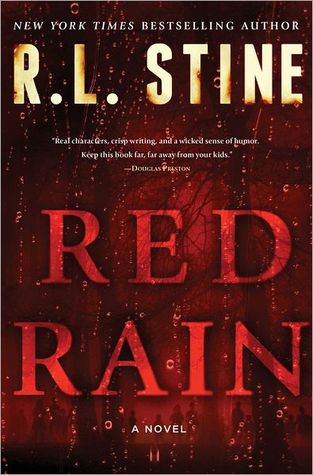 Book Review: Red Rain by RL Stine
Red Rain is RL Stine's baby step from children's bedtime terrors to adult horror. Based around Lea Sutter, a fledging travel writer, who decides against severe weather warnings to visit the mysterious island of Cape Le Chat Noir, off the coast of South Carolina. After witnessing a long practiced and popular reincarnation ritual, Lea is stranded at a local's house while a terrible hurricane devastates the entire island. In the aftermath of the storm, Lea spots two beautiful, orphaned twin boys. Falling in love with their charm and angelic looks, Lea takes the boys home to her husband and two biological children in Long Island. What begins as a charitable act of humanity slowly turns into a downward spiral of death and mayhem.
Prepubescent nostalgia fueled the desire to read Stine's Red Rain and that might have been a little misguided. Though Red Rain is technically an adult novel, it is slow start to any real action. Campy and reflective of the B-list horror movies like "Children of the Corn" and "Children of the Damned," Red Rain utilizes classic archetypes to carry it's plot – which is acceptable and a welcomed turn from the trend of immediate blood and gore, however, it does tend to occasionally feel overdone and lose its momentum. When the plot eventually becomes more mature, it seems as if Stine realized he was writing for adults with rampant cursing and a flash of a semi-graphic office sex scene that seem out of context and forced.
A great admirer of Stine's early work it's nice to see him reaching out to the fan base that grew up scaring themselves reading his books under the sheets at night. However, it seems with Red Rain is slightly off target. Though the last quarter of the book has a clever twist, it comes a little too late and transparent. Slow, yet still interesting enough to keep you're attention, it's worth a lackadaisical read – I would just advise to approach it with a clean palate, laying aside the influence of those preteen "Goosebumps" and "Fear Street" goggles.