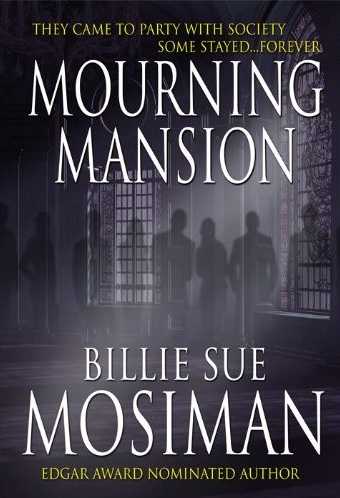 Book Review: Mourning Mansion by Billie Sue Mosiman
The 1980's were a time of decadence and opportunity; two things with which Bill Turk is quite acquainted. On the lam from his ex-con past, he seizes a lucrative position within the oil industry and is determined to make as much money as possible. Driven by greed and desire, Turk embarks on constructing the largest mansion the Texan Mourning Bay has ever seen. Once completed, it is soon understood that the manor's nickname, Mourning Mansion, doesn't just come from the property on which it is located.
Alongside his addiction to money, Turk is also heavily drawn to the darker underbelly of the surrounding cities. At night he leaves his youthful boy toy, Tyler, locked behind the wrought iron lined windows of the house and cruises the streets for more desolate boys with which to party. Once inside the teenagers are supplied with everything they could ever want: food, drugs, alcohol and a seemingly safe place off the street. What the boys don't realize is that once they're inside, they can never leave. Billie Sue Mosiman also includes a familiar character from a previous novel, veteran detective, Jack DeShane. Living near Turk's monstrosity, DeShane passes the mansion's intense and wild parties nightly but has no legitimate reason to investigate until a boy goes missing.
Mosiman takes true criminal events that have transpired along the Gulf Coast and weaves them perfectly into an unsettling tale of the evils that lurk among our neighbors and the unspeakable atrocities committed behind closed doors. Despite being light on actual gore, Moisman is still able to realistically illustrate the pain and suffering that is endured in Turk's house of horrors. A spiraling free-fall into the dark human psyche, Mourning Mansion is a gripping read that'll leave you suspicious of your friendly neighbors.