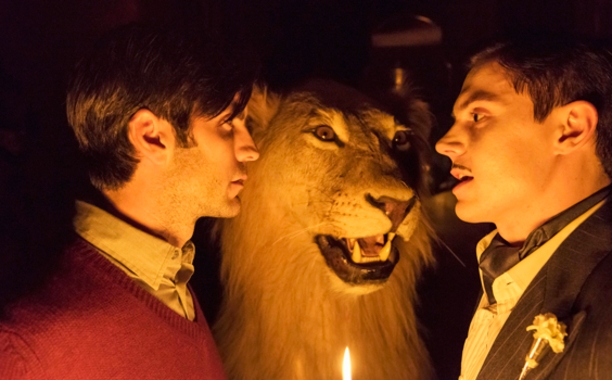 American Horror Story: Hotel - "Ten Commandments Killer"
Of all the questions we want answers to on American Horror Story Hotel, the identity of the Ten Commandments Killers is pretty low on the list. Episode 8 of the series is aptly named, "The Ten Commandments Killer" – and we get exactly that.
As we've all guessed this far – Det. Lowe is the Ten Commandments Killer, what we don't know is how he came to be such and why he doesn't necessarily remember it. Turns out, after the horrific scene with the dead family he mentioned in an earlier episode, Lowe ended up at Hotel Cortez for a late night cap. Apparently all ghosts can read auras and Donovan realizes March will just LOVE Lowe, so he takes him upstairs to meet him. Lowe and March then embark on a two day vision quest of absinthe and deep conversation where March decides he wants to groom Lowe to take his place. We really don't get any information on how exactly March gets to decide who carries on his legacy or what exactly it means for him to be released from his station. But we learn that Lowe develops a split personality and the one that stays at Cortez, does not relay any memories to the family man side.
The only other real explanation we get from the episode is that Cortez is home to a lot of dark and demonic activity that needs to be fed. March tells Sally that the demon that has been summoned needs to be fed by diseased acts - and if it's not fed from others, it will feed on them. We're to assume "them" means the tenants of Cortez, and that they are forever cursed to be horrible beings doing even more terrible things to survive.
While all this is going on at Cortez, we still have no idea what the mass of vampire children are doing or to whom they are doing it – nor do we really know what is going on with Lowe and Alex's daughter. She miraculously ended up at her grandmothers, so there is some adult supervision on her end, though we see signs that she too is cursed by either some werewolf traits or whatever else can breed itself in the valley of Los Angeles.
Lowe seems to be the only one content by the end of the episode and we are left wondering who the final two commandment kills will be and just how far lost are the residents of the Cortez?
Check in and live tweet with me next Wednesday at 10pm - @cc_riots using the #TweetwithBGH hashtag!