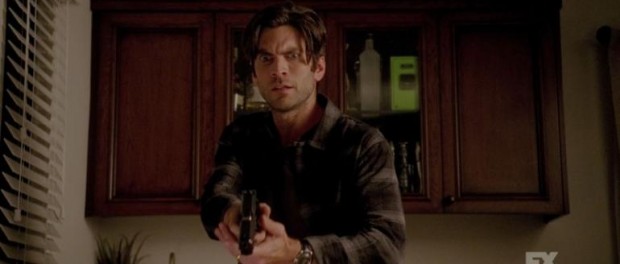 American Horror Story: Hotel - "Room 33"
Episode six of AHS, "Room 33," finally delves more into the background of the Countess and her weird obsession with the vampire children she keeps in the basement, but does little else for the overall story of the show.
The viewers get to meet Bartholomew who "lives" in room 33 of the Cortez. Not sure what 'unfinished business' this ghost or vampire offspring has besides to link the season back to the original Murder House from season 1. So we get a flashback of The Countess going in for an abortion and when it comes out – she's apparently pleasantly surprised since she swifts it away to keep it in the hotel for all of eternity, even after it killed a nurse and she went there originally to kill it.
Also, out of nowhere, a new plot has developed – or was at least teased for a moment when we come to find out that Tristan and Liz Taylor are in love with one another. The Countess is none too pleased with this and instantly slashes Tristan's throat and makes Liz bury him. I assume that this is foreshadowing the continuation of the Countess collecting enemies left and right. Liz is sure to join Donovan and Ramona and their quest to ruin the Countess.
We get a lot of random haunts from the other characters of the show who are now just forever poised to terrorize the halls of the Cortez. The two attractive Swedes are charged by Alex to "break her husband's mind" – whatever in the hell that means, since he's already completely lost it.
Lowe also finally comes to some sort of sense and decides to return home, you know where his LIVING daughter is, and he accidently brings home the vampire fetus, Bart, who starts terrorizing the Lowe's kitchen. Lowe shoots at him, Alex shows up – settles everything and takes Bart back to the hotel where the Countess embraces her and she miraculously turns into a more attractive version of herself.
Not sure what is going to happen with all the rando vampiric children from the school house or poor Liz now that her heart has been broken, or Lowe now that he's not living in the hotel but has definitely "checked in."
Hang out on Wednesdays and live tweet with me at @cc_riots and use the hashtag #TweetwithBGH!