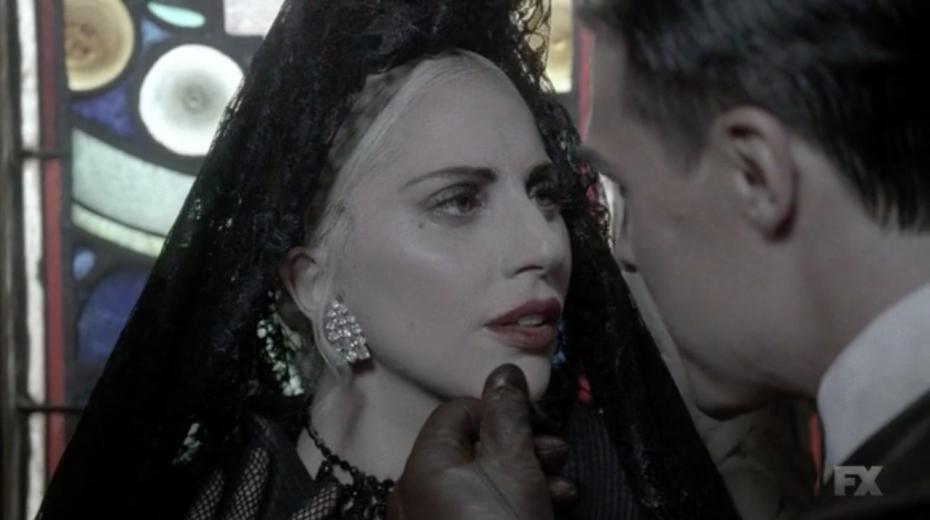 American Horror Story: Hotel - "Flicker"
Episode seven of AHS: Hotel, "Flicker," gives us what we've all been waiting on since the beginning: The Countess' history.
While Will Drake is breaking ground and walls on the renovations to the Hotel, the construction workers demo through a metal wall and discover an eerie corridor that smells like death. Obviously, for our entertainment, the two men venture into the darkness and are attacked by two zombified vampires. When Iris goes to show the Countess was found – we see the first crack in her icy veneer and know she is terrified.
In AHS fashion, we're given the back story in a vibrant flashback to 1925, when the Countess was just a naïve young moral actress named Elizabeth (Nice little nod by Ryan Murphy to the murderous Countess Elizabeth Bathory, who bathed in the blood of virgins in 15th century.) While acting as a harem concubine in The Son of Sheik film, she falls madly in love with Rudolph Valentino. After being seduced by him and his wife, the trio starts a wild love affair that is tragically cut short when it is said he has passed away. Of course she coincidently is at a party at Hotel Cortez when she hears this horrible news, and attempts to throw herself from the window – instead she is saved by James March, which she in turns decides to marry later on. While she is mourning Valentino at his coliseum, the man himself arrives with his wife and they tell Elizabeth that they faked his death so that he could become immortal. We then get to see a very classic throwback to the silent movie era of Valentino being courted by F. W. Murnau, the director of Nosferatu, and his transformation into a vampire. The trio decides to run away again together to live happily ever after, except March is none too happy his new wife is still holding on to her lost lovers. March attacks the couple and entombs them in the secret courier of his hotel, leaving Elizabeth broken hearted again, and alone.
Interestingly enough, this seems to be the most well done episode of the season thus far – though we only have three episodes left, there will have to be a lot of clean up in those remaining hours. Lady Gaga playing the naïve Elizabeth is spellbinding and charming; she effortlessly conveys the love struck craze of the era just as well as she commands violence and cruelty in the present day scenes. The most creatively and courageous move by Murphy this season has to be having Finn Wittrock play two of the Countess' lovers: her first and only true love, Valentino as well as Tristan. This sets the scene for why the Countess has such a taste for a particular type of man, as she is on the hunt for the lover she lost. The episode also seems to be one of the first where the flashbacks seem to both directly relate and still permeate through to the present. Hotel Cortez is a place that is suspended in time and is cursed to repeat its past as its present and future.
Although we are only 2 episodes out from the finale, there's quite a bit more to wrap up with the Ten Commandments Killer and Ramona and Donovan's revenge plot.
With a week off for Thanksgiving, AHS Hotel will be back on December 2nd at 10pm. Check in and live tweet with me @cc_riots using the #TweetwithBGH hashtag!