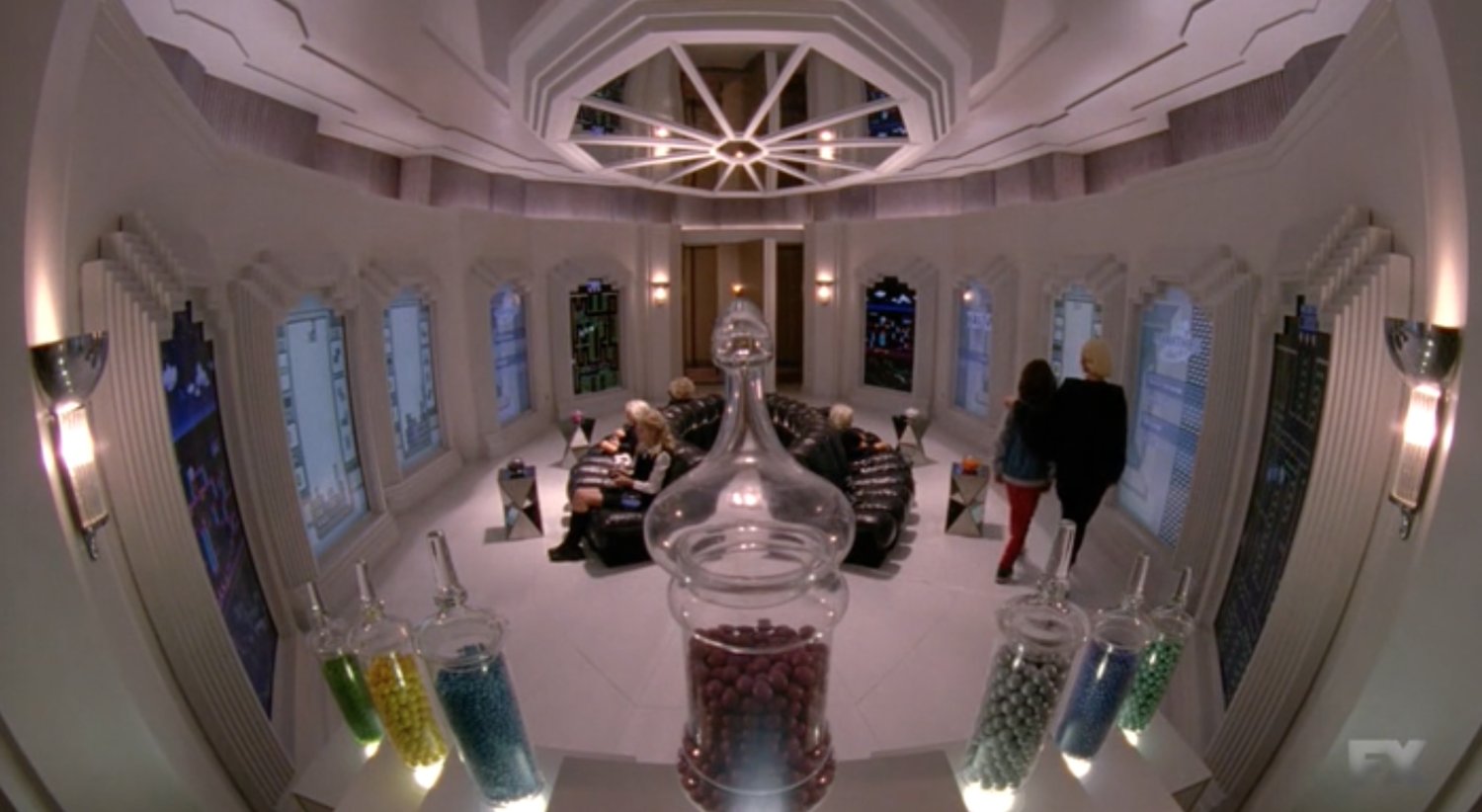 American Horror Story: Hotel - "Checking In"
If American Horror Story was worried about proving itself or how its new star would fair in the current season, Episode 1 of "Hotel" did not show it.
Revolving around the mysterious and very sleekly-creepy art deco Hotel Cortez, "Hotel" begins with two beautiful young women visiting L.A. and realizing that their online reservations have landed them too far from the attractions. Being strong armed into staying at least the one night they have already paid for by the ever intimidating Katy Bates as "Iris," the front desk attendant, the girls continue to their room. Within minutes of the show we are already given a pretty gruesome visual of some mutant humanoid ripping itself out of their mattress after they investigate a disgusting stench.
Cut scene to Wes Bentley's Det. John Lowe taking some ques from David Caruso's Det. Caine, walking into what initially seems a murder scene, where two married (not to each other) individuals have been assaulted and tortured while having intercourse. Don't want to give away too much, but there's some bodily harm, a few rail road ties and a bottle of superglue involved.
Back at Cortez, we see Max Greenfield as, Gabriel, a 90's druggie with slick back 90's hair and enough ennui to fill a high school, who argues with Iris over the price of a room before going upstairs for a fix. While there – he gets high and then gets that high brutally bludgeoned with a drill bit dildo by AHS: Murder House's Rubber Man's even more deranged and disgusting cousin, who looks like he took style lessons from the nurses at Silent Hill. We're also introduced to Sarah Paulson's character Hypodermic Sally.
A haunting phone call that leads to a visit and then a deranged dream by Lowe while at Cortez, leads us to the climax of the episode: the introduction of Lady Gaga's The Countess. The Countess and her lover, Donovan, played by the hunky Matt Bomer, silently stalk out into the world to a showing of Nosfertu (which we can assume is a reference to her character) at the cemetery where they pick up another couple to take back to Cortez for one of the most intensely erotic sex scenes seen on basic cable. Not only is there a foursome, the night takes a bloody turn when The Countess and Donovan simultaneously slit their partners necks and drink their blood.
By the end of the episode we are also introduced to Will Drake (sultry Cheyenne Jackson), a suave New York designer who has grown bored with the scene and moved to L.A. for some inspiration. It is also revealed that he will be buying the hotel and living there as well with his young son – which does not sit well with the residences, save for maybe The Countess. The Countess immediately begins to charm Drake and takes his son to a hidden room within the hotel where several children (who we've seen dine on visitors' in the hotel hallways) are sitting silently playing videogames and munching on candy. We also realize that Lowe's missing son is one of these children as the episode ends – and just so have it, Lowe is moving into the hotel!
We do get a bit of backstory throughout the full scenes of the episode, Lowe and his family mourning their missing son; Iris being the forever grieving mother of Donovan who was brought to Cortez by Sally, and a mysterious and shrouded character (The 10 Commandments Killer, who we can guess is Evan Peters' character Mr. Marks) who tends to show up and brutalize individuals he deems impure. We also met Denis O'Hare's character, Liz Taylor who is as glamorous and enchanting as her namesake, even though we only get a few minutes of her interaction.
There are a ton of easter eggs and subtle references to other greats horror movies or icons that are fun to keep an eye out for. It's been a while, even for the other seasons of AHS, where viewers are excitingly awaiting the next episode – it seems if this is the starting point for this season, it is only going to get wilder. We'll be back next Wednesday at 10pm/est to live tweet. So be sure to join us! Follow me at @cc_riots, and Evan at @evanslead, and use the hashtag #AHSBGH!