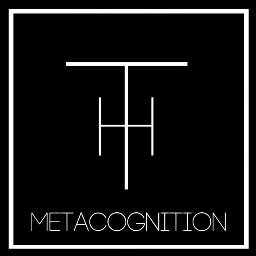 Album Review: TO HUMANS - "Metacognition"
So, what do you do when you're a drummer and your dad is also a drummer but not just ANY drummer. He's one of the most iconic metal drummers ever. What is a son to do? Join a power trio and put out an album filled with some of the best hard rock this reviewer has heard in a long time. That's what you do.
The band is TO HUMANS and the drummer in question is a young man named Jeremy Lombardo. Metal fans will undoubtedly recognize the surname and guess that Jeremy's dad is none other than legendary Slayer drummer, Dave Lombardo. More than that, the album, "Metacognition" was mixed and mastered by Jeremy's brother, David A. Lombardo. There's nothing like keeping it in the family.
Now, I'm only singling out Jeremy Lombardo because the press material makes a point of saying "TO HUMANS, featuring Jeremy Lombardo, son of ex-Slayer drummer Dave Lombardo". While this may be a good way of piquing the interest of metal fans, those looking for the second coming of Slayer will be a bit disappointed. Spoiler alert; TO HUMANS sounds NOTHING like Slayer.
In addition to Jeremy, TO HUMANS also features Danny Toranzo on lead vocals and guitar and Ace Anderson playing the bass. To call this group a "power trio" is a bit of an understatement.
"Metacognition" only borders on the metal genre and is more along the lines of a progressive hard rock album. What we're dealing with here are three extremely talented musicians who's style of play is easy to listen to, understated yet complex.
One of the things you'll notice right away, especially considering to emphasis on the Jeremy/Dave Lombardo connection, is how reserved Lombardo is on the drums. The sound is excellent and the beats are generally complex but not so much that you can't tap your foot to them.
Toranzo's voice is clean and pleasant throughout "Metacognition". This gives the listener easy access to the lyrics which are poignant and expressive. A couple of times, especially on "Too Much To Ask", Danny seems to channel the late Layne Staley of Alice In Chains with his vocals.
And, considering this is a power-trio, the guitar and bass create a surprisingly full sound. The talent of Anderson and Toranzo is apparent and the melodies they have created are excellent. One of the clearest examples can be found toward the end of "Puzzles" where the two really open up and shred leading into a crescendo that is hard to top.
As I mentioned, the music on "Metacognition" is more in the vein of so-called alternative or indie rock. As Jeremy Lombardo explains, "Our goal is for this album to prove that honest expression and emotion can still survive as an art". With that in mind, TO HUMANS has achieved their stated goal.
The band cites as influences Nirvana, Smashing Pumpkins and Arctic Monkeys. Personally, I found  parts of the album to share some characteristics with the last Queens of the Stone Age record.
On this record you'll hear some great hard rock ("Tenacity"), a touch of reggae ("Antagonism") and, if you're into that kind of thing, some really interesting time signatures ("Cagedbird"). And, just confuse fans of percussion a bit more, there are even a couple of songs with sparse drums or no drums at all as on "Isolation" and "Meet Me By The Wall".
While this is not your typical metal offering, or really metal at all for that matter, "Metacognition" is a superb album and I, for one, am glad that I've had the opportunity to hear it. If you're in the mood for something different, yet approachable with a style that I feel will stand the test of time then you should certainly check out To Humans. And I'll just bet that Dave Lombardo is one proud poppa. As he should be.