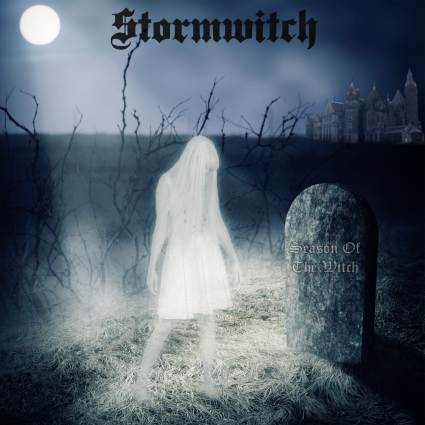 Album Review: Stormwitch - "Season Of The Witch"
So here's how this week's review went down... I popped in the new album from Stormwitch, a band with which I was not familiar. I listened to it a couple of times, jotted down my thoughts and THEN moved on to the bands bio. Imagine how surprised I was to discover that not only is Stormwitch not a new band but they've been around for quite a long time. I had to double check my heavy metal encyclopedia.

Seriously, show of hands, how many of you have heard of Stormwitch? I'm a bit embarrassed to say I hadn't even though I've been a fan of metal almost as long as Stormwitch has been a band. 1981 to be more precise. And "Season Of The Witch" is their 10th studio album. Who knew? Maybe you did. I didn't.

Hailing from Heidenheim, Baden Wurttemberg, Germany, Stormwitch has seen more than its fair share of members throughout their many years. The last remaining original member is the singer Andy Mück and on "Season Of The Witch" he's joined by guitarists "Stoney" Stoner and Volle Schmietow, bass player Jürgen "Wanschi" Wannenwetsch and Micha Kasper on drums.

"Season Of The Witch" begins with the sound of a bubbling cauldron and a witch (I guess) chanting in German which, in spite of three years of German classes in high-school, I could not quite understand. But that's my problem, not yours. Following that brief introduction is the opening track "Evil Spirit".

Immediately I was struck by the old-school sound of the guitar and began thinking of band that sound like Stormwitch. I came up with Angel Witch (no relation), early Iron Maiden and a few other bands from the NWOBHM era. This would not be the last time I made this mental comparison.

The record as a whole has a distinctly late 70s/ early 80s metal feel. The riffs, the song structure and Andy Mück's vocals all come together to create a surprisingly upbeat retro sound. At that point in my "Season Of The Witch" listening experience I still had no idea of Stormwitch's pedigree. Frankly, if this was a new band I would have given them credit for their passion to recreate an old sound and filed them into the mediocre bin. But this is the "legendary German metal band STORMWITCH from Gerstetten" and, believe it or not, it makes a difference in how I perceived them.

I don't know why.

For me, there's something about a band who has been around since 1981 and is still doing "their thing" that I appreciate, even if there is only one original member left. The music they play isn't particularly original by today's standards but I have no doubt it was pretty groundbreaking back in the day. And that's got to mean something, doesn't it?

Mück's singing on this album a vaguely reminiscent of Bruce Dickinson; big, bold and a bit over the top. It fits very nicely with the guitar sound and the drumming style of Micha Kasper. It'll take you back.

If you haven't guessed already, "Season Of The Witch" is chock full of classic metal elements with a little bit of power metal thrown in for good measure so, if that's your cup of tea, this record just might be perfect for you.
The songs tend to revolve around themes of mysticism ("Taliesin"), mythology ("Last Warrior") and, of course, witchcraft ("Season of the Witch").

And for fans of the so-called "power ballad" Witchstorm has something for you too. Give a listen to the soulful "Runestone" and you'll wonder what year it is.

Another highlight is "The Trail Of Tears", a song, as you might imagine, with a Native American feel to it, albeit a heavy metal Native American feel (think Maiden's "Run To The Hills" or "Indians" by Anthrax). With that in mind, I was once again reminded of Mr. Dickinson and early Maiden.

If you are lucky enough to find yourself listening to the "digipak" version of "Season Of The Witch" you will receive a couple of bonus tracks. One of those tracks is the epic "The Singer's Curse", clocking in at 8:40 and running the gamut of classic metal hooks. It's got everything but the kitchen sink.

Stormwitch has been at it for over 30 years and "Season Of The Witch" is their first album in about a decade. It's a 35 minute throwback, to be sure (48 with the digipak). The last founding member, Andy Mück, seems to know what he likes and he has found a talented group of guys to assist him in achieving his goal. I think fans of classic metal will be pleased with what the group has created on "Season Of The Witch". It's not for everyone but it might be for you. Take a chance and see what you think. Now I've got to go brush up on my heavy metal encyclopedia knowledge.




.