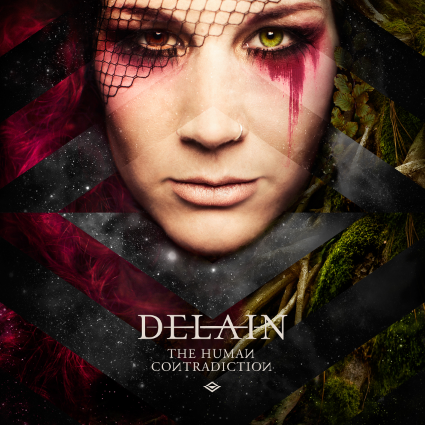 Album Review: Delain - The Human Contradiction
Female-fronted, symphonic metal is one of the few types that can appeal to more than the average metal fan. Whether it's the difference a female voice makes, or the symphonic arrangements tempering the more metallic aspects of the music, the bands of this style have been able to find an audience beyond the usual groups, which is essential, given how their music goes against most everything that modern metal stands for. The roster of bands mining this style is ever increasing, but not nearly as many are able to do it well. Those that can are a blessing, because they show it's possible to succeed in what might possibly be the hardest category of metal to write in.
Over the course of their first few albums, Delain has racked up an impressive list of accolades to make their case as one of the best bands of their style. Album number four aims to continue this trend, and Delain has a lot going for them that their peers can't match. Vocalist Charlotte Wessels is a force fronting the band, her voice avoiding the whispy tones that populate so much of this kind of music. She has the range and power to dominate the album, which is both a blessing and a burden.
The opening "Here Come The Vultures" is a nice illustration of this. The song opens with her voice and a lone piano, as she sings a sly little melody. The band kicks into gear, and there are several nice metal and melodic passages, all of which are highly enjoyable. But the one thing that's missing is the one thing a symphonic song like this needs, a massive chorus. There just isn't enough in the hook to soar above the rest of the song. Just when I was expecting the song to take off, I realized it was already in top gear. That's ok, but it was crying out for something just that little bit more.
The same issue pops up on the next track, "Your Body Is A Battleground", which sabotages itself by limiting Charlotte's time singing with a lengthy guest appearance by Tarot singer Marco Hietala. It's not that Marco is a poor singer, but Delain should be playing to their strengths, of which Charlotte is first and foremost. The song has the hook it needs, but finds its own way of disappointing.
Thankfully, the album finds its footing shortly thereafter, reeling off a string of solid, hooky metal tracks that are sure to please anyone with an ear for pop music. Even the inclusion of growls on "Tell Me, Mechanist" are well done, and serve to support Charlotte, rather than replace her. Maybe the balance is a little too heavy on the pop, and too light on the symphonic for a lot of fans, but I think it's the perfect balance of hooks and heart.
Symphonic metal isn't normally my thing, but the way Delain does it here, I can see why it's become so popular. "The Human Contradiction" offers up a nice bridge between the worlds of pop and metal, the perfect antidote for those who are tired of hearing music that isn't the least bit memorable. Sure, there are some areas where the band could tighten their songwriting, and play up their strengths more than they do, but that doesn't detract from the fact that they've made a very enjoyable album.