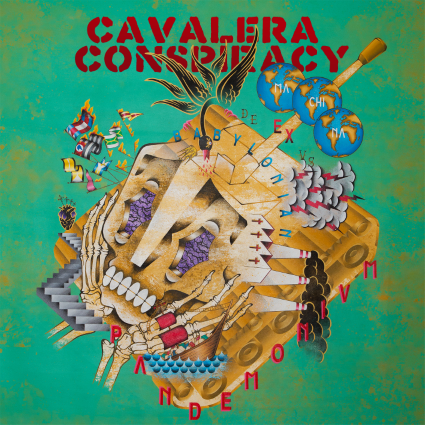 Album Review: Cavalera Conspiracy - "Pandemonium"
Few names are as immediately recognizable in the world of metal as that of Max Cavalera; founding member and former frontman for metal giants Sepultura, founder of the Brazillian flavored metal group Soulfly and now, after reuniting with his brother, former Sepultura drummer Iggor Cavalera, face of Cavalera Conspiracy. If you're a fan of brutal, in your face, unapologetic metal, Max and Iggor are here to provide it with the latest release from Cavalera Conspiracy, "Pandemonium".

Pandemonium /pandəˈmōnēəm/ (noun) - wild uproar or unrestrained disorder; tumult or chaos

"Pandemonium" is a fitting title for the third release from Cavalera Conspiracy. I don't know if I can say it's the best work Max has ever done. He is, after all, responsible for one of the the most iconic songs in metal with "Roots Bloody Roots". But the music on "Pandemonium" is pretty freakin' good and it's the best I've heard from the Cavalera brothers in quite some time.

In addition to Max Cavalera singing and playing rhythm guitar with brother Iggor Cavalera on drums, Cavalera Conspiracy also features Marc Rizzo on lead guitar and bassist Nate Newton.

Max and Iggor making music together creates a flow or a feeling that I think can only come from siblings who honed their skills by playing together. Long time band members may feel something similar to a brotherhood but the blood in this band adds another dimension.

Max's SUPER down-tuned guitar is unmistakable on "Pandemonium" and his mastery of the riff is incredible. As Max explains, "I write riffs all day long. It's one of my favorite things to do. It's fun. It's never a drag. Writing riffs is like therapy for me".

His ability to create those "pit moments" within the songs, the heavy breakdown that makes you want to crash your car into a tree, is as strong as ever.

We all know what Max and his brother Iggor are capable of. "Pandemonium" highlights their respective abilities in a very positive way. It's a terrific blend of some superior drumming, blazing guitar playing and the near-perfect metal sound that is Max Cavalera's savage voice.

Not to be outdone by the Cavalera brothers, Nate Newton's bass playing on this record is vicious and Rizzo's leads add another layer to the songs keeping the thrash of Max's axe from becoming too one dimensional.

Fans who were dismayed by Max leaving Sepultura, whether you enjoyed Soulfly or not, will be reinvigorated by "Pandemonium". This album is brutal. It'll make your speakers shake and beg for mercy.

The brothers Cavalera play like they've got something to prove and prove it they do. Max's vocals are dirty, filthy growls that, at times, play more like a percussion instrument than voice. And the percussion will blow your hair back, alternating between thrash beats, blast beats and some of the nastiest break-downs this reviewer has heard in a while.

Max describes his brother's drumming this way, "My brother plays fucking hard. He can make the drums sound like thunder". I agree.

"Pandemonium" kicks off with the track "Babylonian Pandemonium" and it is heavy, heavy, heavy. It's the first of 12 tracks on this record and there's not a ballad among them. It's full speed ahead with the emphasis on speed. Hold on to your hat.

CC barrels through "Bonzai Kamikazee", the merciless "Scum" and "Insurrection". Each song is as heavy or heavier than the last and each thoroughly enjoyable.

My pick for best track is a little ditty called "Not Losing The Edge". The title, I believe, is self explanatory. It's Max's anthem about strength, relevance and endurance and it's a crusher.

The record ends with "Parra" which has more of that Cavalera Brazilian flavor than many of the other songs on the album. It incorporates what I think is a mandolin into an otherwise very metal song with positive results. This is the kind of experimentation we've come to expect from the Cavaleras and they do not disappoint.

A lot of reviewers overuse words and phrases like "blistering", "pounding", "thundering", usually unnecessarily, to describe the latest metal release. In this case, however, they are justified. I'd like to use every cliche I can think of to describe "Pandemonium". It's a wild uproar. It's unrestrained disorder. Cavalera Conspiracy may very well have the best metal album of the year on their hands and I am glad to have heard it.