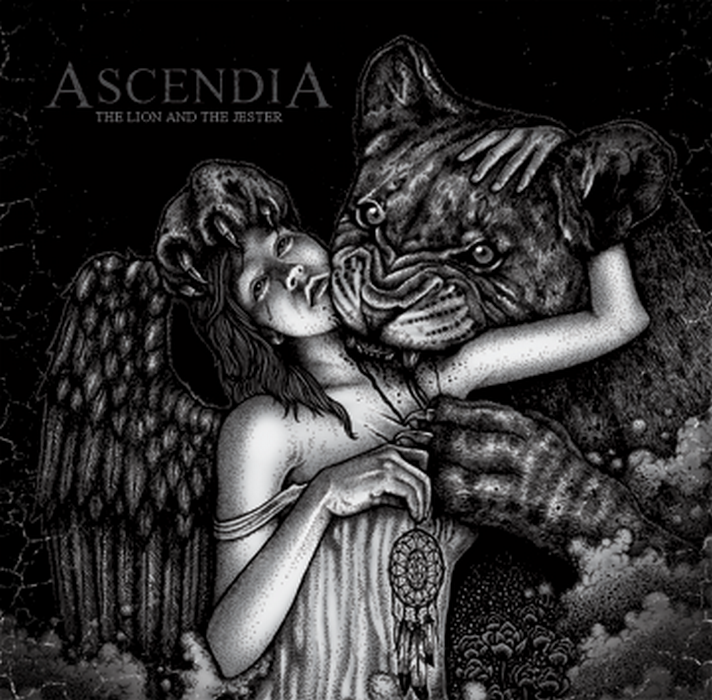 Album Review: Ascendia - The Lion And The Jester
Despite what the name might lead you to think, progressive metal is among the most static and boring of all heavy music genres. Half the bands that fall under the moniker exist merely as a vehicle to show off the skills of the players involved, which is fine in small doses, but rarely sustains a creative career. The other half of the bands stick rigidly to the blueprint of one of the fore-bearers of the genre, giving us music that sounds exactly like something we've already heard. Very little of progressive metal is actually interesting, because it is a genre that lacks people dedicated to the art of songwriting. Songs are what makes any band successful, no matter how much sheer musical skill they possess. Dream Theater didn't get to where they are just because they are amazing musicians, they also wrote a slew of great songs and albums. The number of progressive metal bands who have impressed me with their songwriting in recent years is miniscule, but I mention all of this because Ascendia is one of them.
As "At The End Of It All" swells into focus with a tribal drum beat and chanted vocals, it's already obvious that this is not going to be prog-by-numbers. The song kicks into gear with a syncopated guitar riff, before the vocals soar over the top of everything, slapping a thick coat of melody atop the sound. There's a quiet section in the middle of the song that feels like a cousin of Killswitch Engage, which is a fresh sound to hear in this kind of music. When it opens back up into the chorus, the song is massive, and it's hard to believe all of that music was contained in five and a half minutes.
The songs on the album are more bite-sized than typical progressive metal, but that plays into the band's strengths as songwriters. By keeping the songs lean and tight, they hit harder than if the instrumental sections had been extended by a minute here and there. There is interesting playing going on, but it's all done within the framework of the songs, and never put out front to dominate the spotlight. It's an approach that is smart not just because of how easy it is to get bogged down in instrumental pyrotechnics, but because an album of that sort would never be able to survive the Herculean vocal presence of singer Nick Sakal.
With more than a little bit of similarity to the former singer of the aforementioned Killswitch Engage, Howard Jones, Sakal's vocals dominate the album, making you wonder where a voice like that could have come from. His baritone is warm, rich, and not at all what you would expect to hear in a band that isn't playing down-tuned hardcore.
But what is most important are the songs, and that's where Ascendia proves themselves as standouts. Whether tackling more modern fare like "Remember Me", or more traditionally melodic songs like "Moonchild", there's a phenomenal blend of heavy riffing and soaring melody. I can't tell you how rare it is to hear a progressive metal band that is so in tune with melody, and can write songs that could stand up if they were stripped down to the chord structure and the vocals. We get an example of that with the duet ballad, "The Song That You Deserved", a largely piano and voice song that is as beautiful as it is heart-breaking. Ascendia's ear for songs is excellent, and that is what makes "The Lion And The Jester" such an engaging listen. Song after song, there's a warm and inviting chorus waiting to wrap its arms around you after you've heard the heavy and intricate moments.
This year has been off to a ridiculously great start, with at least half a dozen legitimately great records having already come my way. Add "The Lion And The Jester" to that list, because Ascendia is making progressive metal the way it was always supposed to be. Both challenging and gratifying, intense and cathartic, "The Lion And The Jester" is a phenomenal piece of work that reminds me of the very best progressive metal I've ever heard. This is an album you need to hear.
Oh, and how awesome is that cover art? That is one album that will look as good as it sounds in a collection.