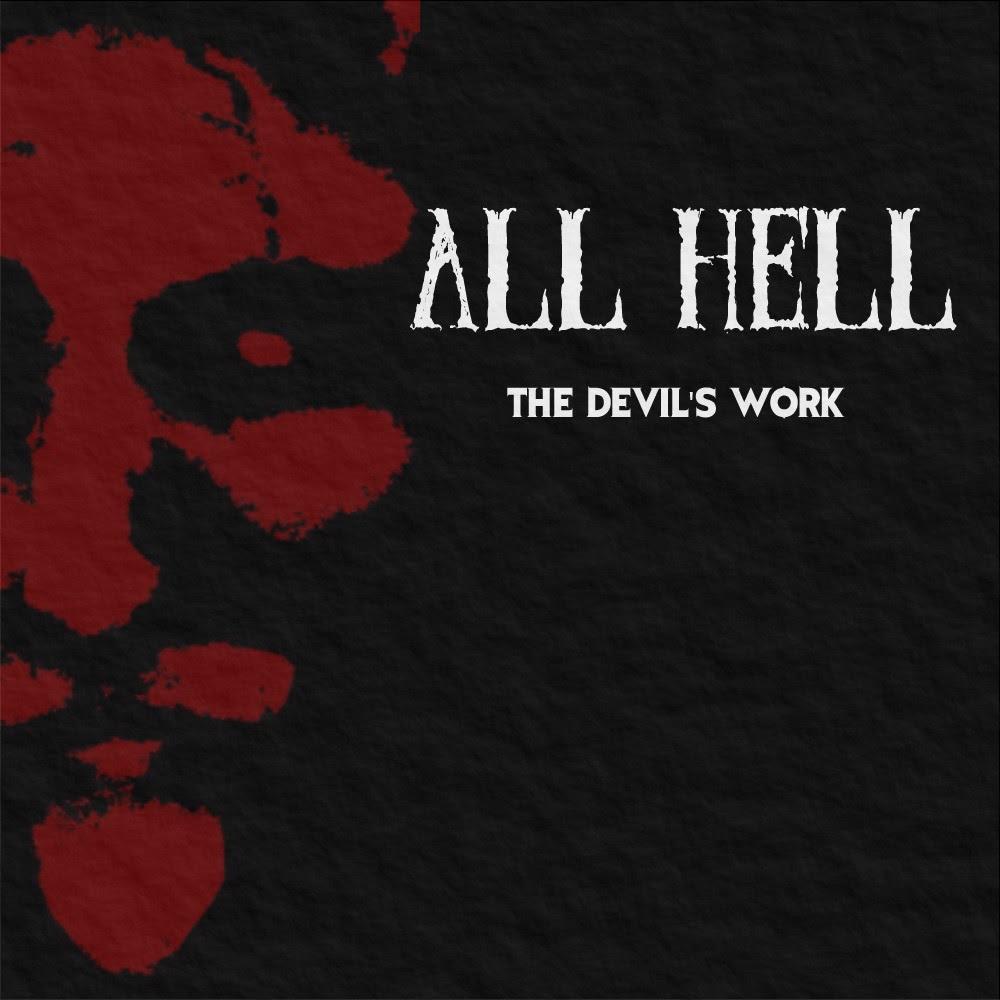 Album Review: All Hell - "The Devil's Work"
How many metal shows have you been to where the opening act was solid but not inspiring? I've found myself in this situation more times than I care to remember. I am a supporter of music in all it's forms and I give due credit to any band that has made it far enough to have an album released and go on tour. It's their chance to show the audience what they can do. When the opening act comes on, I'm rooting for them. I WANT them to inspire me. I WANT them to succeed.

All Hell is a three piece outfit from Asheville, NC and their record label, Horror Pain Gore Death Productions, calls the band, "...a unique blend of metalpunk, thrash and old school black metal". That description isn't far off the mark.

All Hell's debut album, "The Devil's Work", will appeal to a certain segment of the metal listening audience, namely those who enjoy the work of Danzig/ Misfits/ Samhain and similar bands. Their style is certainly born from those influences as well as groups like Venom and and something a touch more thrashy.

The members of All Hell are Jacob Curwen on vocals and guitar, drummer Kurt Henderson and Erik Ballantyne on bass. For a first album, "The Devil's Work" isn't bad. With 12 tracks clocking in at just under half an hour, it goes by pretty quickly.

The sound All Hell has created for "The Devil's Work" is not groundbreaking nor could it be considered original but it's solid, horror inspired punk/ metal. Heavy on the riffs and light on leads, it plows ahead in 4/4 time with serious overdrive on the guitar and snarling vocals from Curwen.

The record kicks off with the two minute rocker "Suffer For Me" with a throwback, hardcore sound that was popular in the early 80's. Well, maybe it wasn't "popular" but that's around the time I first heard that kind of music. Regardless, the song's punk roots shine through.

Compare that to the slower paced "Dead Of Night" which ambles along and reminds me a little of something that might have been left off of the first Exodus album, without the shredding leads, of course.

The songs all have a similar sound and feel. From "A Grisly End" and "The Reaper's Touch" to "Samhain Wind" and "The Howling Hell", the lyrics are filled with horror and darkness, presented in thrash/ punk style with that ever-present "chunka-chunka" saturated guitar sound. Kurt Henderson's spirited beats are not complex but they're solid and provide the driving force to All Hell's blackened sound.
The track that finishes the album off is "Devilwolf" which seems like it could be a fun song live. I can picture the audience chanting the chorus with fists in the air; "I am the devil wolf.... wolf.... wolf... I am the devil wolf". Appropriately, the word "wolf", whether intentional or not, comes across almost as a bark.

The highlight of the album for me is the 1:40 "Doctor Plague". In spite of Curwen's voice not being what you would call melodic, the chorus of "...calling Doctor Plaaaa-gue" is pretty catchy.

Fans of horror punk and old-school metal should find something to enjoy on "The Devil's Work". At this point, All Hell sounds like an opening act to me but an opening act with promise. "The Devil's Work" is a solid debut. The pieces are all there and I feel, with time, All Hell will find their own place, refine their work and really make a name for themselves in the horror-metal/ punk scene. I, for one, will be rooting for them.